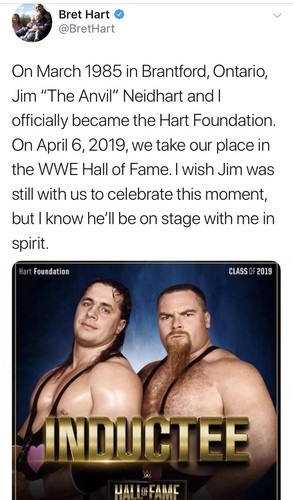 I saw a few days ago that The Hart Foundation was going to be inducted into the WWE Hall of Fame through Bret Hart's twitter feed.
Wow. Did that ever bring back memories. No wrestling fan could forget their theme song.
I couldn't help but reminisce about how much I got into wrestling way back in the 1980s when I was growing up. I remember how upset I was when the heel ref, Danny Davis helped them win their first tag titles. Man, did I ever hate them at the time!
Of course there are far better memories where I didn't hate them like this:
I don't watch much wrestling anymore. It's pretty hard to find time when you work full time and have a child to raise! Maybe when my son gets older he'll get into wrestling and I'll have to tell him all about The Hart Foundation!
It's a shame that Jim Neidhart won't be there on stage with Bret Hart for all their accolades, but as Bret Hart said in his tweet, Neidhart will be there in spirit!