Mohammedan, once one of the top teams in the country, has been in a miserable condition for a long time. The team has also left the group stage in this year's Independence Cup. The equation became difficult for Mohammedan due to the draw of Muktijoddha Sangsad and Bangladesh Army. Despite a 1-1 draw against Saif Sporting, the last title-winning team in 2014 had to leave the group stage. Because they had to win to reach the quarter finals.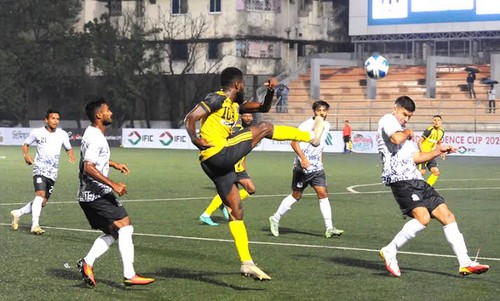 Saif Sporting has been gifting offensive football since the start of the Group C match at the Birshreshtha Shaheed Sepahi Mostafa Kamal Stadium in Kamalapur on Monday. But goalkeeper Ahsan Habib Bipu was on guard in front of Mohammedan's goal post.
In the 13th minute, Nigerian forward Emeka Ogbahar fired a powerful shot from outside the box. Towards the end of the first half, Faisal Ahmed Fahim's long cross was controlled by Nigerian forward Sunday on a great volley.
The gap could have been doubled in the 53rd minute of the second half. However, before Shahed could touch his teammate's cross, Bipu came running and cleared it. In the 56th minute, there was tension between the players of the two teams. The referee showed yellow cards to Saif's Asrar Gafurov and Mohammedan's Yasmin Mesinovic.
In the first minute of added time of the second half, Messinovichi equalized with a header from a corner. In the end, Mohammedan had to leave the tournament with a 1-1 draw