India won new medals in the Asian Games that are held in the Indonesian cities of Jakarta and Palembang, highlighting today its first title in heptathlon events of these tournaments, through Swapna Barman.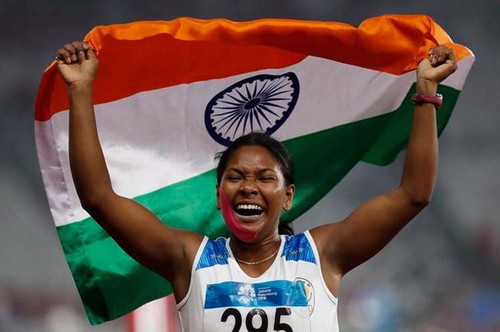 With 6026 points, Swapna obtained a remarkable victory in fight against its rivals and the pain, after competing for two days with the bandaged cheek due to a mole that caused havoc, especially in the high jump.
The Indian heptalonist improved her personal best of 5942 points to overtake Ekaterina Voronina of Uzbekistan, champion at the Incheon Games four years ago.
Barman, who has six fingers on each of his feet, also had to solve problems to get the best shoes before the Games in Jakarta. My main concern is that I'm not getting the right ones for the high jump, he said.
'I use normal shoes, used by people who have five normal toes. It really hurts during training. It is very uncomfortable, either with shoes or normal shoes, "he said with a smile.
And while she became the first Indian heptathlete to win a gold medal in Asian Games, Arpinder Singh finished a 48-year wait for India's victory in the men's triple jump, after Dutee Chand scored his second silver in an action-packed day of athletics for the South Asian giant in Jakarta.
Arpinder jumped 16.77 meters on his third attempt to hang the gold medal. The last Indian champion in triple jump (m) in Asian Games was Mohinder Singh Gill, in the distant year of 1970.
The Arpinder brand was, however, well below its best record of this season, of 17.09 meters, during the National Interstate Championship held in June, which placed it in third place in the Asian classification. His personal mark is 17.17m, while the national record of 17.30m is in the name of Renjith Maheshwary.
For its part, Dutee added a silver medal in the women's 200 meters after finishing also in second place in the 100 meters for women a few days before. He crossed the finish line in 23.20 seconds, behind Edidiong Odiong of Bahrain, who took the gold at 22.96. The bronze went to the Chinese Wei Yongli (23.27).
Dutee joined illustrious compatriots in the list of Indian athletes who won more than one medal in Asian Games.
The legendary P T Usha won four golds at the Seoul Games-1986, winning 200m, 400m, 400 meters with hurdles and 4x400m relay. Jyotirmoyee Sikdar (800m and 1500m) also won two medals in Bangkok-1998. Sunita Rani (1500m, 5000m) also returned home with two podiums from Busan-2002.