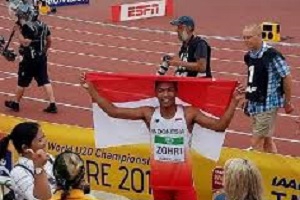 A new history for the Indonesian athletics world has been carved by Zohri. young man from West Nusa Tenggara who became a world champion athlete 100 meters. Zohri's brilliant achievement brings sweetness to bring the first gold medal for Indonesia's participation in this arena, Zohri reaches the finish line in 10.18 seconds (With the acceleration of the runner's wind direction of 1.2 meters / sec). He surpassed two sprinters from the United States, namely Anthony Schwarts and Eric Harrison, each of which posted a 10.22 second increase.
He successfully recorded the history of the Athletics world championship for age 20 that took place in Tampare, Ireland, on Wednesday, July 11, 208.
He recorded history in the men's 100 meters at the U-20 Athletics world championships which took place in Tampere, Finland on Wednesday, July 11, 2018.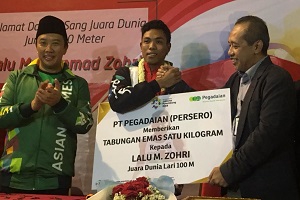 On the success of Zohri, Minister of Youth and Sports also gave cash Rp. 250 million and weighs 1 kg of gold from PT Pegadaian