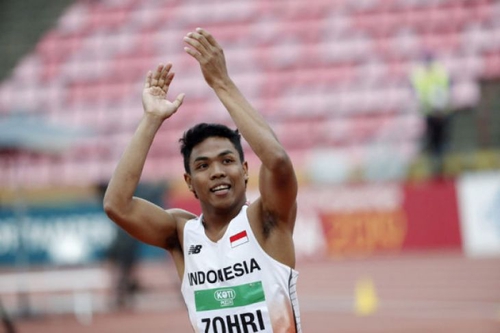 Athletic athletes son of Indonesia Then Muhammad Zohri won the world title run 100
meters U-20 men who took place in Tampere, Finland, Wednesday night (11/7) local time.
The athlete from Lombok, West Nusa Tenggara, in a written statement of the Executive Board of Athletics Association
All of Indonesia (PASI) received by Antara in Jakarta on Thursday, successfully passed the line of nis
with notes
time is 10.18 seconds.
Then beat two American athletes Anthony Schwartz and Eric Harrison who are ranked
two and three with a record time of 10.22 seconds respectively.
Note Time Then 10.18 seconds it simultaneously broke the junior national record in its own name 10.25
seconds. The time record of 10.18 seconds was also close to a senior national record on behalf of Suryo Agung Wibowo 10.17
seconds.
"It's very proud of what I got today, it's incredible for me," said Lalu
following the recording of his name in the history of the athletic sports of the country.
Then say his achievements in the U-20 Athletic World Championships or previously called the Junior World Championships as part of preparations for the 2018 Asian Games athletic competition in Jakarta.