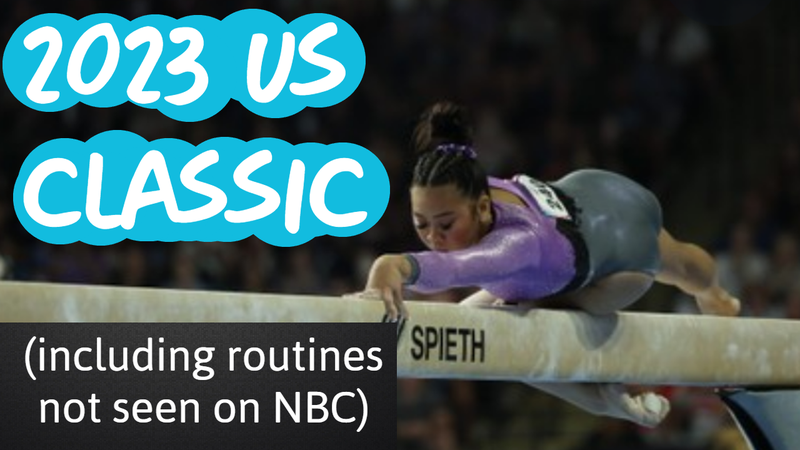 When gymnast Simone Biles, considered by many as "The Greatest of All Time", decided it was time to return to competition after 2 years off, she didn't make an announcement, she just listed herself to compete at the US Classic, just like any other gymnast participating in that event did and, when USA gymnastics published the official entry list for the competition on June 28, some news outlets picked up on it and the news spread like wildfire.
Simone had taken time off from gymnastics as she suffered from the "twisties", a condition that makes gymnasts brains disassociate from their bodies, especially during twisting elements, in a way that the gymnast does not know where about in space she is, where the ground is,... something very dangerous for a gymnast who is several meters up in the air. Imagine doing a double summersault and not knowing where you are, now imagine adding 3 twists to that double summersault, something that we, mere mortals firmly set on land, will never be able to do. While the "twisties" are suffered by many gymnasts during their careers, it usually occurs during training, so the gymnast has time to recover her space awareness working with her coach or coaches before the next competition comes up, sometimes they miss a couple of important competitions, but they bounce back.
For Simone, the "twisties" came at the worst time, during the team final at the Tokyo 2020 Olympics, on the very first apparatus, vault, she attempted a 2.5 twisting Yurchenko, a vault she had performed many times and that she excelled at, but she lost space awareness and ended up saving the vault, but she only did 1.5 twists. In a team final, the system of "3 up, 3 count", meant that 3 gymnasts perform on the apparatus and all 3 scores count, so you cannot discard any score. She recognized right away that she needed to step down, as all of her routines contained twisting elements, she would have harmed her team chances for a medal, so she knew that she to let her team mates, all of them great all around gymnasts, compete in her place.
While most of the news covering Simone's 2023 return were pretty factual mentioning the time Simone had been away from elite gymnastics competition and the reason for that, which any gymnastics fan who was really interested in this sport knew about, there was an outlet that questioned Simone's ability to compete after what happened in Tokyo; CNN ran an article with the title "Simone Biles on entry list for US Classic in August – but will she compete?". Well, about 5 weeks later, Simone answered that question in the best way she knows, on the podium, winning the all around competition (finishing 5 points ahead of the 2nd gymnast), and on beam and floor. She performed the most difficult vault in the competition, but she chose not to do a 2nd vault, so she didn't entered the vault final, and she had the highest D-Score on floor, a huge 6.8.

Another gymnastics star, the reigning Olympic champion, Suni Lee, who had been competing in the NCAA league for Auburn University, and who is also having her health struggles (she is currently fighting a rare kidney disease), came back after being away from elite gymnastics since the Tokyo Games. Suni only competed on vault, where she did a simple Yurchenko with a full twist, and beam, but enough to be able to qualify for the national championships.
Watch the video to see Simone and Suni in action, together with other Olympians, such as Jade Carey (the reigning vault Olympic champion) and Jordan Chiles, and many other athletes who are trying to make the national team.