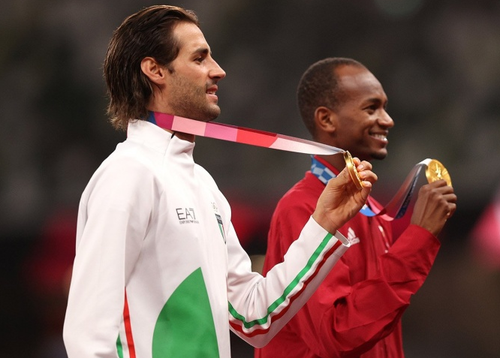 The entire sports community of the World is in shock. The two athletes agreed among themselves and received a gold medal for the Olympic Games. The IOC not only kept silent, but also supported !!! What is the essence of the agreement? How does this threaten the future of the Olympic Games themselves? Agreements become "in law"?

The essence of the contractual competition
On August 1st at the 2020 Olympics, an egregious incident occurred in the men's high jump competition. The two athletes agreed between themselves and received a gold medal. How is this possible? What happened?
Mutaz Barshim (Qatar) and Gianmarco Tamberi (Italy) fought for the Olympic gold. They jumped confidently, raising the bar higher and higher. As a result, they confidently reached the mark of 2.37 meters. Next height: 2.39 meters. Both athletes could not conquer her, using all three of their attempts.
The rules indicate that in this case, the opponents begin to jump until someone makes a mistake. But the athletes thought about it and decided that they would not jump anymore. They thought that it was possible and necessary to paint a draw and get a gold medal.
Where is the IOC looking?
Yes, the Italian is really happy, as he was able to recover from a serious injury. But still, there are rules! How could the International Olympic Committee allow not just a violation of the rules, but the very fact of an agreement, an agreement between two athletes?
Does the old motto "Faster, Higher, Stronger" need to be changed by adding "together"? Like if together, then you can agree and become taller and stronger than everyone, in a pair.
What is the future situation for the Olympics?
It turns out that now you can safely negotiate in any sport. This is how it is, for example, in football. Satisfied with a draw - let's play like that. Maybe later they will further expand and there will be contracts not only between applicants for 1st and 2nd places, but will also add applicants for 3rd and 4th places to the company? Ultimately, before the start of the final starts, the athletes will sit on the edge and talk to each other. They will think and decide that everyone is worthy of the Olympic gold. So why then run, jump, shoot, swim and play? We agreed and everyone received gold medals.
Here, do not forget about the financial component. I wonder how much they could earn, who put Mutaza and Gianmarco on the victory? Especially if you were looking for surebets and bet on two in different bookmakers. Apparently, the amounts are pretty impressive.
Thus, at the Olympic Games 2020 in Tokyo, several precedents were implemented. They can actually be used by other athletes. Moreover, not only for the sake of sports achievements, but only in order to earn as much money as possible. So, after the Tokyo Olympics, the agreements can become official.