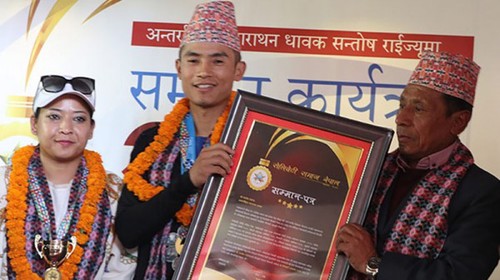 He has participated in many athletics competition in international level. He represents Nepal in all of those competitions. Celebrity Society of Nepal gave him a Celebrity honor as a reward.
Who is he ?
He is non other than Santosh Rai. He has made us feel proud in several occasions.
He is involved in charity run in Dharan as well. He has been involved in the althetics continuously from 2009. It has been almost 10 years, a decade till now. The Dharan running festival is organized in every February from 2011. He is one of the founder member to organize the Dharan run in Nepal.
Recently, there was an event of marathon held in the Japan. There were 38 thousand people who had participated in that contest. While Santosh Rai managed to be among the top 700 participants in the Tokyo marathon. He has been awaring people for better health and hygiene. He motivates people to run in order to be healthy.
That's the only reason that the Celebrity Society of Nepal awarded him Celebrity Award 2075. He was the deserving candidate to receive this award.