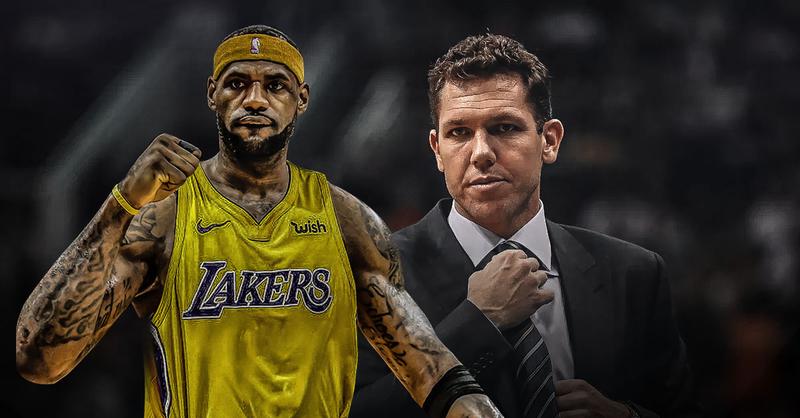 The world of NBA is still discussing the superstar LeBron James' confirmation that he will go from Cleveland Cavaliers to the Los Angeles Lakers.
First of all, James agreed to a four-year contract worth $154-million.
One of the first to welcome LeBron to the Lakers is the retired two-time NBA Finals MVP Kobe Bryant.

The NBA great Kareen Abdul-Jabbar also greeted the Lakers team president Magic Johnson for successfully taking James.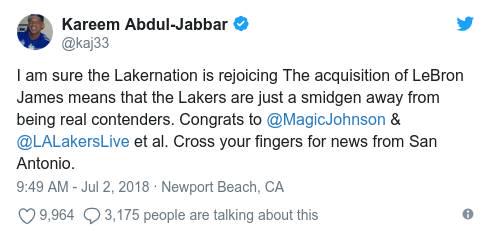 LeBron has also expressed excitement with the "family" of Lakers cagers Lonzo Ball and Kyle Kuzma.


As a result, the Lakers season ticket prices have also risen as a result of LeBron's move.
It costs $5,800 or equivalent to P310,000 worth of tickets, from $3,499 or about P187,000 before announcing the four-time MVP and fourteen-all All Star.
Lakers also tumble up as the top contenders for the NBA championship next season, based on the sportsbook in Las Vegas.
According to the Westgate SuperBook, the Lakers have 7-2 odds to end the reign of the Golden State Warriors in the NBA over the past two seasons.
But the Warriors are still the favorites of the gamblers where they are still odds-on favorites with -110 to become three-peat champs.
The Boston Celtics are equal to 7-2, while Houston Rockets have 7-1.
In recent years, Los Angeles has also dominated as a team in which LeBron is moving.
Based on the Oddsshark betting site, the Lakers are -110 favorites, while the Philadelphia 76ers are in second place.
Do you think Lakers will win against Warriors? Or Lebron James have no chance to win a championship again?