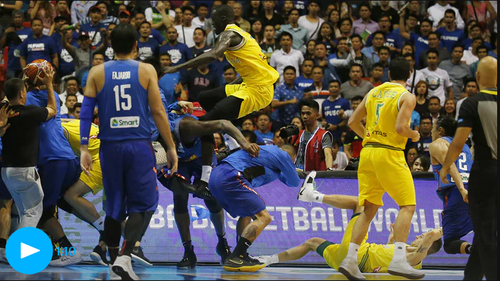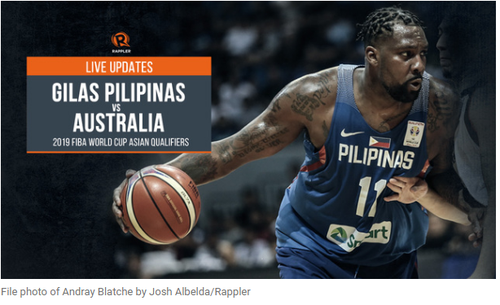 Just in case you have not seen what had happened last night at the 2019 FIBA World Cup Asian Qualifiers held at the Philippine Arena at Bocaue Bulacan Philippines, please take a look at the snippet video of it ( Video credit to the youtube owner ).
It was on the 3rd quarter when the ugly brawl started. It was Philippines RR Pogoy and Australia's Chris Goulding sparked the said incident which were also involved by other on court players and some bench players of the host country.
Philippine coach Chot Reyes when interviewed after the fight, said that during the warm up games, there's already a tension between the two teams. According to some other reports too, tensions involved trash talking and calling other players as " monkeys" during the warm up games and some even said that even during the actual games aside from being physical, trash talking were presents too.
All emotions went high and that ensued for the brawl.
Many felt disappointed for the turning of events, for it was not the kind of sportmanship that the organization is promoting. Some people even showed dismayed for even a well knowned Philippine coaching team participated in the brawl. One local player have seen, throwing a chair to a visiting player.
Few punches,shoving, flying kicks, and running around the court were present during the fight.
If there were people who were felt disappointed, there were also people who were felt proud of what happened. To them, playing as team cannot only be seen on court but also when one of their teammates were being ridiculed by other player/s.
Some of the people who were involved, already gave public apologies but others stand by from what they have shown on the fight and didn't show any remorse feeling at all.
As a result of the brawl, 13 players were ejected, 4 from Australia and 9 from the Philippines.
With a little over 4 minutes left on the 3rd quarter, the game continued with 5 players from Australia and 3 remaining players from the host country.
But since 2 players of the Philippines were eventually fouled out, they decided to discontinue the game for it really impossible for the Philippines to play with only one man team with the remaining less than 2 minutes of the game on the 3rd quarter, thus Australia won the game and Philippines loses.
Final score of the night, 53-89, Philippines-Australia respectively.
As to the repercussion of the event, the FIBA governing bodies will soon decide about it in a matter of week.
Both teams are now ready to face any consequence for their inappropriate acts.