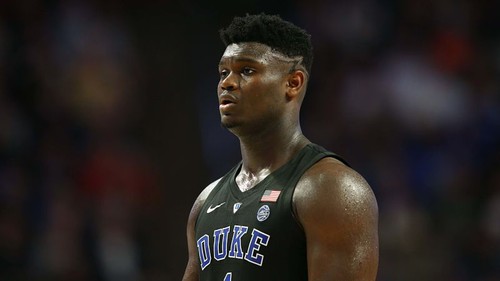 Zion Williamson has been the prodigious face of college basketball since he threw down his first twitter shattering dunk in the Blue-White Duke scrimmage. He has been a human wrecking ball this season, averaging 20.2/9.5/2.2 while going 66% from the field. He is undoubtedly college basketball's most exciting, popular and talked about player. Teams have already begun tanking for him, and whatever team takes him will bring a circus of media and fans who love his high soaring dunks and ridiculous blocks. Although there has never been a physical freak quite like Williamson, how will his underwhelming height and lacking jump shot translate to an NBA that is constantly taking more 3's?
Zion is likely to play as a 4 or a small ball 5 in the league. His athletic prowess has been one of the largest parts of his game. He will be able to bully people with his weight and frame. Williamson looks like a defensive end at 285 pounds. Only one player in the NBA is heavier right now, Boban Marjanovic at 290. But his height could be an issue. Listed at 6'7" he is a definite tweener. He could spend some time at small forward if his ball handling improves. We have already seen this "big man 3" experiment work with some success, in Jabari Parker and Julius Randle both being converted to the small forward spot. Zion would have to rely on his inside game and footwork. His lefty jumpsuit has been wildly inconsistent, making 16% so far, his mid-range game hasn't been too promising either.
Comparisons
Draymond Green is another common juxtaposition for the Duke freshman. They are both 6'7" and defensive monsters. That is where the similarities end. Green is a much better playmaker (6.7 AST's per game this year), as the Dub's offense often runs through him. Zion has shown some advanced passes, but at the end of the day, he averages two assists and works best in isolation and give and go sets. Draymond, although he is struggling this season, (and a new meme has arisen showing that Green's shooting form looks backpack on) he is a much more consistent shooter than Williamson. Green has shot 33% on about an attempt a game for his career. This is one of the modern requirements for small ball centers and power forwards.
Giannis Antetokounmpo is not a great jump shooter either, but he is vying for the MVP. There is a large difference between the two, although their styles of play are very similar. Giannis is so ridiculously great at finishing at the rim much because of his frame and athleticism as well. But Giannis is much taller, he is listed at 6'11" but many say he could even be 7'1". With an unbelievable 7'3" wingspan and a 12-inch hand length. Zion doesn't have these features, and with the likes of Gobert, Bamba, and Whiteside roaming the paint, Williamson could struggle to finish and rebound like Giannis.
The most used comparison is to Charles Barkley, a heavy, short inside man. Who lives in the paint and uses his footwork and athletic ability to dominate the game. Zion is much more of a high flyer though. Barkley had to fight through much of what Williamson had to face with height and weight problems.
Overall, Zion is a completely unique player who is hard to compare to anyone in the NBA currently or in the past. It is hard to project his career trajectory other than from the dominance he has shown at every level so far. Williamson has shredded through high school and college so far and many are excited to see how he will fare in the league.
The Verdict
The current king of college basketball will have an interesting career in the least. He is rated as the 1 prospect on many draft boards. He is obviously an athletic freak, the likes of which we have never seen in any level of basketball. Zion may step up to the plate and continue to improve his footwork, jump shot, and inside game and become one of the NBA's prominent superstars. He could also struggle to excel because of his height, jump shot and no longer superior athleticism in the league. No matter what happens, he will have millions of eyes on him every step, as he has the past 3 years. What will Williamson's future hold? Only time will tell.