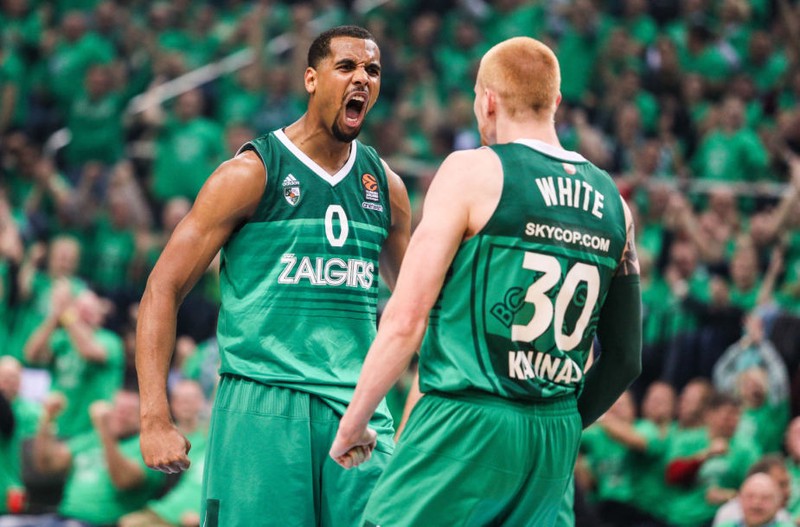 European basketball is not interesting, you should watch the NBA bla bla bla is bullshit. I do love watching the NBA and I do understand that the best athletes in the world play there. However, that doesn't make European basketball any less interesting. Don't you believe me? Go and watch yesterday's game between Kaunas Zalgiris and Athens Panathinaikos. That game had everything from brilliant defending to clutch shots to over-time drama. Kaunas Zalgiris won the game 87-83 after coming back from 4 points deficit in the last minute of the fourth quarter to go into the overtime.
First half
Just like last week against Fenerbahce, Kaunas Zalgiris started the game strong and after 5 minutes had a decent 6 points lead 10-4. Brandon Davies and Paulius Jankunas were go-to men in Zalgiris as both big guys dominated the opposition. Panathinaikos big guys Mitoglou, Gist and Thomas got early fouls and limited their minutes on the court. Only Langford, probably the best scorer in the Euroleague, could offer something for Panathinaikos offense as he kept his team in the game. Right after Langford got substituted, Panathinaikos offense died and Zalgiris increased their lead to 10 points 20-10.
In the second quarter, Kaunas Zalgiris continued their dominance and were upfront 37-20 with 5 minutes left in the first half. That's when I realized that everything is too good to be true. After all, last week Zalgiris had 16 points lead against Fenerbahce and eventually lost the game. So I knew that similar things might happen with Panathinaikos, especially when playing in Athens. And of course, that was when Panathinaikos started scoring points - Antetokounmpo, the brother of the Greek Freak, launched a three-pointer while Calathes kept driving to the basket. The first half ended 44-33 in Zalgiris' favor, but it was clear that Panathinaikos would play much better after the halftime.
Walton Jr., Zalgiris' new point guard who also played in the Miami Heat for a while, played his first game yesterday, so it was interesting to see if he could bring anything new to the team. After the game, coach Sarunas Jasikevicius was extremely happy about Walton's performance because he was quick, aggressive and clinical on his assists. Walton created the highlight of the game when he passed the ball to White who posterized Panathinaikos defense with a dunk + 1.
Second Half
Panathinaikos started the second half with much more energy on both ends of the court and slowly got back into the game. If Zalgiris could force Panathinaikos to make low-percentage shots in the first half when the situation switched in the second and it was Zalgiris' players who had to force the shots. On top of that, Calathes, Langford, Thomas, Lasme, and other Panathinaikos leaders started making their shots. With a little bit of luck, Zalgiris managed to stay in front after the third quarter 58-51. However, I was pretty sure that those 7 points won't last for long if things don't change.
Zalgiris' best shooter, Arturas Milaknis, did not have an opportunity for a shot behind the arc in all his 28 minutes on the court. That shows how prepared and well organized Panathinaikos' defense is. However, Milaknis stretched the opponent's defense and created some miss-matches for the big guys which helped Zalgiris stay in the match. Walters and Walkup, two new guards in the team, tried their best in the fourth quarter but it was not exactly enough and Panathinaikos got the lead for the first time with only 4 minutes left in the game 66-64.
Sarunas Jasikevicius had no other choice than to bring Brandon Davies back into the game and try to use his physical abilities against Panathinaikos' centers. That worked and Davies got to the line 3 times, making 5/6 free throws to keep Zalgiris alive. However, on the other end of the court, Nick Calathes dominated and kept scoring both three-pointers and easy lay-ups. His second three-pointer in a row (after missing 5) gave Panathinaikos 4 points lead with one minute remaining but Zalgiris did not panic and got level 74-74. After that, Panathinaikos scored a masterful alley-op shot and Zalgiris had the last chance to survive. Walters tried to hit a clutch three-pointer but missed. Wolters, one of the smallest guys on the pitch, rebounded the ball but missed as well. Brandon Davies got the second rebound and tipped the ball into the basket, 76-76. Nick Calathes' game-winner did not connect and we were heading to the overtime.
Overtime
Kaunas Zalgiris looked better in the overtime and deserved to win the game. Panathinaikos made a couple of stupid faults, could not defend the post and failed to hit their shots. Zalgiris won the overtime 11-7 and will be coming back to Lithuania with a victory at Athens. That is a historic victory because Zalgiris has lost in Athens to Panathinaikos in all 10 previous meetings. However, after the match, Sarunas Jasikevicius pointed out that this victory will count as one point just like any other victory in the Euroleague and Zalgiris will have to keep winning if they want to get to the playoffs for the second year in a row. Saras also said that he was extremely satisfied by the way his team is playing this season so far even though Zalgiris lost 2 out 4 games.
After yesterday's victory, Kaunas Zalgiris is now in the 8th position after 4 games. That is a very positive result because all four games were played against the favorites. Next week, Zalgiris will face last year's champions Real Madrid and if they can get away with a victory, that would create a lot of hype in Lithuania and players would definitely grow a lot of confidence early in the season. Of course, with 30 games in the regular season, we will face a lot of ups and downs, but from what I see so far, Kaunas Zalgiris is one of the best teams in the Euroleague and should be able to finish in the top 8.