I have been betting on sports for over a decade and still absolutely love the challenge it brings along. I learn new things every week and try to evolve along with the betting market to stay profitable. At the same time, I have learned quite a lot of lessons in the past that now help me beat the market. I will be breaking down some of the handicapping processes I go through in this series of posts which might be interesting to those who want to become better themselves.

---
There are many ways to beat the sports betting market. Betting on stats, situational spots, news, systems, intuition, trading, inplay, basic handicapping, reading the market, mathematical arbitrage, pure betting talent ...
What works best for me is to somewhat combine most of these with being on top of the league I cover. I personally don't believe there is a get rich quick way in betting and unless someone puts a lot of time and effort into it, it's unlikely that they will end up a winner over a longer period of time.

This weekend there was a very interesting match between Kv Mechelen and Moeskroen. This is the entire thought process on that match from a betting/handicapping point of view...

---
1. Basic Handicapping / Early Market

When looking at the standings Mechelen and Moeskroen had an equal amount of points. Yet when having seen all matches it was clear that Moeskroen were rather lucky to be in that place. This tends to be a classical setup because odds are often overly influenced by stats or standings. When bets become available in the early market on the Asian bookmakers, the limits are usually rather small (~1000€ combined) and not that much money is needed to drop the odds. It is however a great way to get some good value bets at times. Basically, being online when odds are released is one of those things that can highly increase your returns in betting. This is one of the things that takes more commitment than actual skill.

2. Early Bet Selection

When it comes down to choosing the bet you want to take, I first of all look at the odds and compare what's offered by the different bookies available at my Betting Broker Sportmarket Pro. Pinnacle odds are always the reference and I usually take an alternate line if those give better odds compared to Pinnacle especially if there is a rather big gap. Often times I also split the risk between 1H and FT lines. This both decreases the variance and often allows me to get in deeper live depending on if the HT Bet won or lost.

3. Week Line Movements

Seeing the odds go up or down during the week and following this closely is another interesting took when it comes down to making all the right decisions. Early moves tend to have far less important since little money is needed to make those happen. Late Sharp moves however are extremely scary as in most cases it's just big sharp money that comes in. In the match between Kv Mechelen and Moeskroen, there was quite a big drop early on followed by a sharp move up on gameday.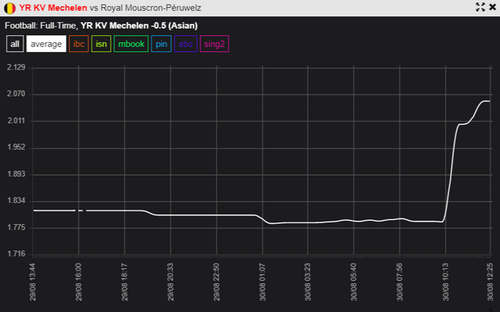 I did not see any valid reason for this move to take place as it made no real sense. In the past, I used to get somewhat ego-triggered and would have taken even more on it. Having been through a situation like this many times before, I saw it as a big red flag and I nearly always put myself below the betting markets now giving them a lot of authority. This specific move time after time again tends to be a major indication are rarely proves to be invalid unless there is a sharp move down again just before Kick-off which didn't happen.

4. Live Betting

As much as I liked KV Mechelen from my own point of view, I knew I was going to look out to decrease my position if possible. As the match started it was quickly clear that the big sharp move was quite spot on with Moeskroen playing a solid match and I would need quite some luck in this one. Unless the match was fixed (which at times it looked like even though I'm quite sure it wasn't), the ones pushing the line really have some sick predictions skills I admire. Moeskroen ended up getting a penalty which they missed after which KV Mechelen made the flattering 1-0. I already planned upfront to cover at least part of my position in case this would happen so that's what I did taking Moeskroen +0.25 @ 1.925. Only 6 minutes after the 1-0 came the 1-1 followed by the 2-1 a little later which was the HT Score already securing part of my betting action. The 2nd half it remained 2-1 for a while and I continued to cover my position with over 3.5 bets (one at 1.97 odds and the other one late @ 4.20 odds.) Sure enough, the 2-2 came very late in the match.

I would have probably lost a lot of money on this one in the past being frustrated by the late goal. Giving a lot of authority to a big sharp late move now avoided me to take extra and made me move out of the way while it was possible only losing the bare minimum on this match.

---
Full Preview That was Posted Pre-Game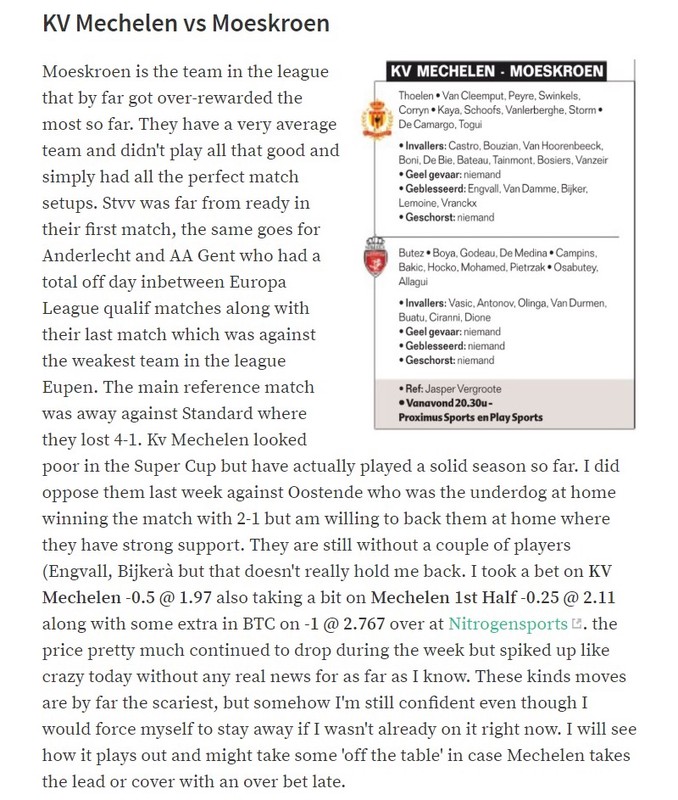 Live Betting Discord Chat

---
Conclusion
There is a lot more to handicapping Sports matches in order to make it profitable in the long run than most people realize and past experience from similar situations help a ton to make better estimations. I already wrote about not opposing sharp moves in my Betting Wisdom series about a year ago! (Post Link) and this match was a textbook example of this.