Welcome to another midweek action and this time we have Italy Serie A with the most available fixtures. All of the upcoming games from the leagues are really exciting and it is hard to have high confidence in any of the picks. Well, some times confidence does not help either and the expectations are mercilessly shattered just like in La Liga yesterday by the likes of Villareal putting up 4 goals against Barca. Even the late goals by little Messi and biting Suarez couldn't help win that bet for I had not considered the possibility of such high-scoring draw. Anyways, that was yesterday and I hope the following predictions and picks for the upcoming Italy Serie A fixtures might turn out to be more accurate and rewarding.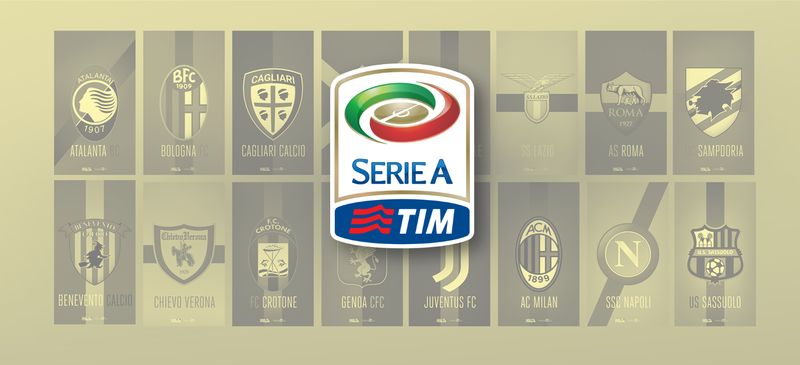 ---
Italy Serie A Predictions:
Empoli vs. Napoli

The two polis would face each other tomorrow in a fixture where the host poli is an underdog trying to avoid the relegation zone while the visitor poli needs no introduction as they are the topper of the table and the hot favorites. For a short period of time, I underestimated and doubted Napoli's form due to their struggles in the recent few fixtures, therefore, decided to back the hosts Roma but that turned out to be a naive approach. The visitors did experience a dip in the form before, however, they proved themselves a great team that recovers in a flash and the result was a 4 goal humiliation of Roma. As compared to Roma, the host team in this fixture have a much weaker defense as they let their opponents grab an average of two goals/match. Even though the visitors could not keep a clean sheet in their recent fixtures but they love to score. With the presence of their dangerous striker Arkadiusz Milik, they would most definitely breach the host's defense more than thrice claiming a handsome victory.
Roma vs. Fiorentina
Here come the hosts that I was talking about before and I admit that they have undergone a series of issues recently, which might have influenced their performance but I must say that it is a bad time to fall in the abyss of losses. The season is entering a crucial stage and they have been dropped out of the champions league qualification with a four points deficit. Their last performance against Napoli was definitely not impressive as they demonstrated sluggish gameplay. The coach issues apart but in my humble opinion, the pace of the players or their attentiveness to the passes has not much to do with the coach. This is definitely not the team I watched a couple of months back, therefore, it would require a mental preparation to back them again even against the teams like Fiorentina. This does not mean that much is wrong with the visitors but they simply have lost their form despite that they do not have any considerable issues with coaching.
In their last head-to-head fixture in January, the visitors bashed the hosts with 7 goals to 1. Many would say that Roma was being careless about the fixture and was occupied with other leagues but let us minus 5 goals for that carelessness? The visitors still did a good job and let's give it to them but as for now, they are in a decline. There are mostly draws written on their profile but those were against the tough teams like Atalanta, Inter, Lazio, and Torino. They might be in a poor form but I believe they would still be able to at least resist a defeat.
Torino vs. Sampdoria
Another interesting fixture where both teams are sitting right next to each other in the ranking. The hosts are demonstrating a slight fluctuation in their form recently as they lost to an underdog Bologna and Fiorentina. The visitors are somewhat in a similar situation but they are a competitive side. The host's home form is slightly better than the visitor's away form as they have marked handsome victories against Atalanta and Inter. However, the visitors have also beaten Calcio in an away fixture with 5 goals and even Milan at home ground in their last fixtures. The hosts might be proud of their strong defense while the visitors can rely on their better attack. Based on the stats, it would be hard to back a team here and a mere home ground advantage might not be enough. Even though the hosts are the favorite in this fixture but I see the great possibility of a high-scoring draw in this case as well.
Genoa vs. Inter
Let not Genoa's surprise victory against Juventus fool us as they are a good team but definitely not an exceptional one. The hosts are the same team who lost to an underdog Parma and Udinese so we can say that the lack of complete Juventus squad especially CR7 in that away game did make a difference. Apart from this victory, the hosts are a team that neither wants to score nor let their opponents do. They have a compressive playing style because of which their most fixtures ended in a draw or otherwise some wins with a tight margin. The visitors in this fixture are a tough nut to crack as they have decent attacking strength in addition to a rock-solid defense. The visitors have demonstrated an equally challenging away form which is better than the hosts home form. Also, the things are getting tougher for Inter at their current top position and they would most definitely want to take control of the situation. This might be a handy fixture for them and they would give their all to gain maximum points from this one.
Frosinone vs. Parma
This fixture is between the two losers where the hosts are with slightly more terrible form than the visitors. The hosts have almost lost all of their recent fixtures and we all know where the team stands with such stats. They probably have lost hope and are waiting to be relegated. Even their home ground could not provide any source of inspiration and they let their opponents score like rain because of which their conceding rate is about 3 times their scoring one. The visitors are not landing on the moon either but they are at least struggling to maintain their spot at the top of the second half of the table where they have got touch contestants. Another defeat in this fixture would cause them to drop down a few ranks which would be the worst outcome of this game. The hosts might be the favorites in this game because of the home advantage and their pull for a draw in the last head-to-head tie but I believe among the two, the visitors are a better team to back.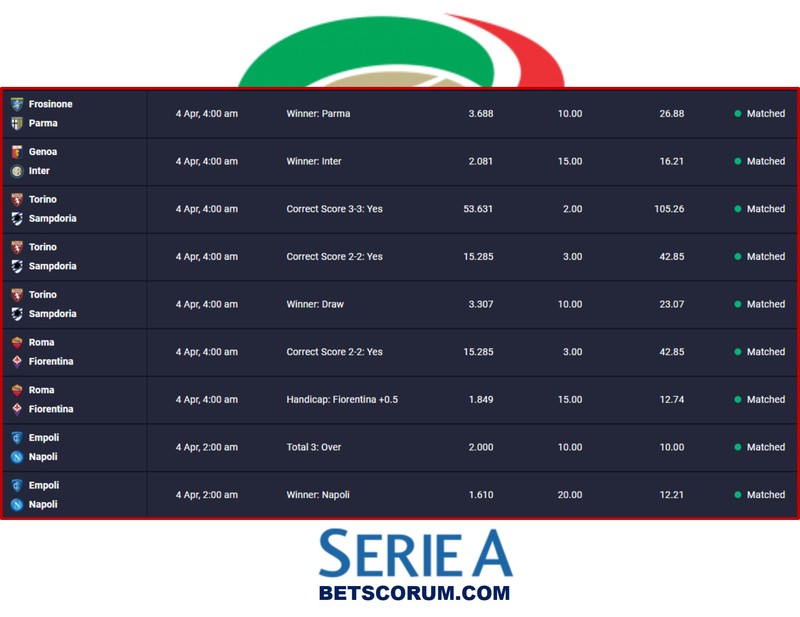 ---
Thank you for your time and attention.
How was your midweek betting action so far?