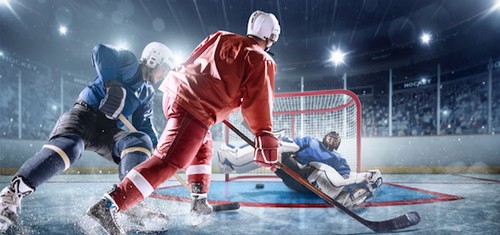 I decided to switch from CloudBet to Bet365. This is my 2nd bet of the season, the first one ended with me losing 15$ . I will be keeping track of my bets and hopefully get into the positive side of things by the end of the hockey season.
Since I mostly bet to entertain myself , I am going to go for 2 different parlays this time.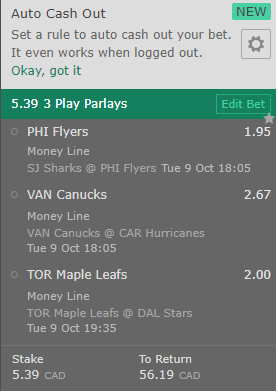 Flyers Vs Sharks: In the first game I have decided to go for the flyers for a few reasons. This is their home opener, their stars have not waked up yet and this would be the best moment for them to do so knowing their fans are going to be cheering for the first home game of the season all game long. On the other side the sharks are having a hard time this season getting their offense started even with the addition of, possibly, the best offensive defenceman of the league.


Canucks Vs Hurricanes: This is a pick that could go one way or the other. It's true that the hurricanes are playing home which gives them the advantage of lines matching but there is something about Elias Peterson the rookie favorite to win the calder this year that makes me scared to bet against. I believe this is going to be a very high scoring game and both goalies will have to step up.
Maple Leafs Vs Stars: This pick is also a hard one but how can I bet against the monstrous leafs attack? Austin Mathews and Tavares are both on fire lately and I believe the leafs are going to send a message to the entire league tonight by completely dominating the Dallas Stars at home. I wouldn't say this is going to be a high score game but I expect the leaf to have a very high puck possession %.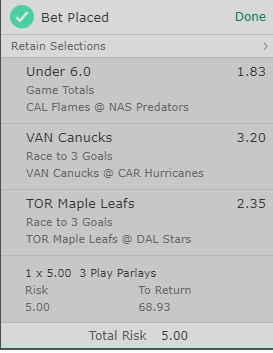 There isn't much to say on this 2nd bet, this is really just gambling and entertainment here based on a bit of logic but I wouldn't advice anyone to follow me on this haha!

Both flames and Predators have a good goalie with relatively tight defense.

I expect Vancouver to win this matchup against the hurricane and since I believe in a high scoring game, I want to believe Vancouver will reach 3 goal and will do it before the hurricanes in order to win.
And finally Toronto, nothing much to say apart from the fact that I am very confident in them being able to score 3 goals. All I need from them in this bet, reach the 3 goal mark first!

Total Risked: 10$
Down since start of the season: 15$
Potential Win : 125.12$

Let's see how it goes! You can follow how my bets are doing by monitoring them on NHL.com