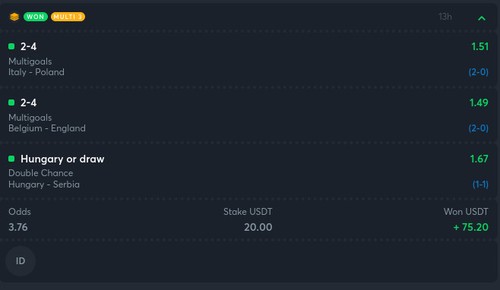 I dislike international breaks and pointless "UEFA national league" competition. It breaks national leagues and cause a lot of headache to coaches. Three games in short period of time, a lot of injured players unavailable for next club games etc... Ask Klop about it. This competition ruins opportunity to watch top level football.

Saturday morning in absence of football I tried to check my luck with horse racing. Some Australian and Asian races were in progress and I surprisingly won one of first few bets for small stake. Then I decided to rise stakes and start to bet on the biggest favorites in some races with odd from 2.5 to 5. They didn't end in top 2 or 3 the most of time. Anger took me and I continued trying to double stakes on next. Only race I was close was last when horse I bet on lead all way long, but at the end second favorite took him and won. Felt like slapped across face I was ready to try 2 times more until complete bankrupt on sportsbet.io, but fortunately I received call from job and was forced to do some things related to my job. My founds on sportsbet fell from 108 to somewhere near 90-95. After finished that problem on job remotely I decided to return to football.

Idea was simple bet 4 times, on every losing double stake, shot odd 3 or greater and hope you'll win one of those 4 bets. Later you win bigger prize will be. Catch is if you lose all 4 then you're out of play. LoL Well it didn't work on horse racing.
During the night I saw tempting football game Portugal - France and started new round betting on X. France is strong, Portugal too, they often play draw. But guess what N. Kante scored goal and Portugal didn't respond and game ended 0:1 for France! It was shot in emptiness for 5 USDT! Yesterday I picked up Turkey - Russia X because X is where money is (odd 3). Russia took lead but then went man down early in the game and Turks scored 3 goals. Russia managed to make it 3:2 but that was all. Shot in emptiness for 10 USDT!

Anger took me more. I saw games Belgium - England and Italy-Poland. First wanted to bet on Belgium and Italy but then get scared from H.Kane and R.Lewdandowski and fact that Hazard is not playing for Belgians and decided to go more safe with total goals from 2 to 4 with odd around 1.50. Of course Hungary - Serbia was hot-shot, because Serbia can't win anyone on B level. Odd was 1.60 which in sum gave wanted 3.76. Stake was 20 USDT with one more attempt left for 40 before bankrupt!

Belgium started good scored goal, Italy scored from penalty too, but Serbia surprisingly took lead 0:1 in Hungary. Damn Radonjic ran away counter and scored! Where was he against Scotland ?! LoL. Belgium scored second and I thought they will go over 4 in total, but they didn't. Lukaku cleared off the line Kane's effort to keep calmness... Inevitable happens as Hungary equalized to 1:1 before half time. Boban Dmitrovic can't keep cleen sheet. LoL Second half it was more of MMA than football in Belgium whose players eliminated one English player and attempted elimination of Kane and Trippier, but they somehow survived. Italy went on nerves because result was 1:0 for to long. Then 10 minutes to go Poland got red card. I thought it's now or never for Italy's second. Fortunately they scored second soon and I ran straight into bed unable to watch until the end scared of scenario that Serbia might score second. Didn't want to provoke photons coming from TV and computer! I end up winning that bet for odd 3.75 which pushed me above USDT level I initially had. (Even if I count one wild stupid bet for 5 USDT live on Bari wrong thinking Ternana got red card because display on my laptop was moved and looked like red at first sight and odd on Bari at 0:1 was 7. Pure amaterism lol).
Now balance is better than at begin of weekend which returned satisfaction. I think I'll return to modus 'bet only when you are sure on dead favorite'. Already thinking about Manchester City against Tottenham despite K.Walker was suffering against Belgium... Will I be able to put 2 again like last time when Bergwejn scored and super inferior team won and make me lose scr or will I be brave to say both teams will score (hoping Son and Kane will show some magic to Walker).