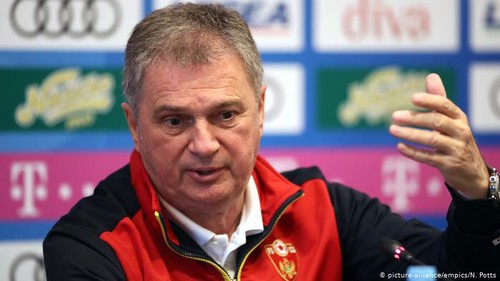 Long time ago when infamous commander of para military arm force "Serbian volunteer guard" Zeljko Raznatovic - Arkan owned football club Obilic and rest of league was forced to let him get champion title Partizan lost game against them and coach Ljubiša Tumbakovć gave legendary statement "Football is game played not only with legs but with head too!" Nowadays this coach is in charge of Serbian national squad.

Squad had chance to qualify to Euro over UEFA National League because it was first in group on C level. We were superb against Norway, but very bad against Scotland and got eliminated. When journalist asked Ljubiša is he thinking about resigning he replied "If we won on penalties I'd ask you if you are thinking about resigning!". LoL
New B level of UEFA National league is to hard for us and we are last in group while Hungary and Russia are fighting for first place and going on A level. Reason why I wrote football is game played with head is fact that if Serbia end last and got relegated on C level it might win C level group and have chance to qualify for World Cup over it. On B level it would be impossible. So why not let "Ortodox brothers" to win this game and get first place and ensure weak group in next competition ? :) Apart fact that Russia is much better squad than Serbia at the moment and would probably win without we let them do it. Letting Russia win could also be good for political reasons in "justified fight for south Serbian province of Kosovo" where Russia is not recognizing this state and block it in security council of UN. :)

Serbian playmaker from Ajax Dušan Tadić suddenly felt "Hamstring injnury" and went to his club. Public is angry on Kolarov because believes that he didn't want to play against Scotland because advice from his club Inter. Atmosphere in squad is poisoning... UEFA removed Polish referee who gave Russia red card in Turkey. He was man in black for Serbia-Russia, but UEFA sent new English referee for this game! Strange thing too like they want Hungary on A level, but who cares... LoL

Believe or not odd for Russia win is around 2.70. It's to big hot shot to avoid! Without Tadić and with Mitrović out of form, with weak defense and weaker midfield Serbia has no chance in this game and Russia need WIN to be first. Serbia must WIN to avoid relegation, so on paper can't play on draw and attacking against better opponent can lead to catastrophe like in Ukraine...

It's AWAY win as castle gates, odd is to good to be truth, you have been warned! Remember you read this tip first on scorum.com! Don't cry after game why didn't I put this... LoL I connected Russia 2 with multigoals on Hungary - Turkey and Bosnia - Italy 1-6 goals to reach odd 3.