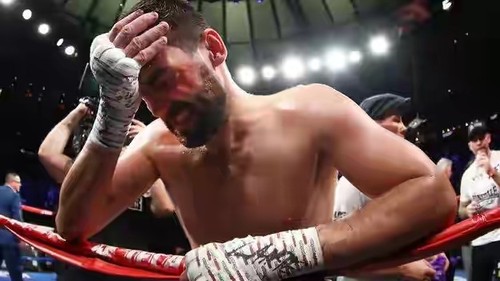 Boxer Fielding was taken to the cleaners by his opponent Alvarez in just 3 rounds in a WBA Middleweight World Title bout on Sat night, Dec 15, 2018, Fielding was floored in all the 3 rounds prompting the referee to called a TKO in Alvarez favour.
Happy Moanday contest by @pete is for you if are new on scorum or your blogs aint getting support.
When 28 years old Mexican, Canelo 'Cinnamon' Alvarez announced sometimes in Oct, 2018 that he was moving up a weight category from his Middleweight to Super Middleweight, to fight the British Challenger, Liverpudlian Michael 'Rocky' Fielding, only few felt Alvarez had bitten more than he could chew, majority believes Alvarez is capable and will definitely defeat Fielding.
The Brit and 31 year old Fielding is no push over, his records speak for him, with 28 professional fight, 27 wins, 15 by KOs, and just 1 loss. He became the WBA Super Middleweight World champion in June, 2018 when he defeated German and holder, Tyron Zeuge by a 5th round KO.
The Saturday night bout between Alvarez and Fielding was the 1st of a newly mega deal between Alvarez and video streaming service giant, DAZN, a deal that worth £278M ($365M), for the next 5 years. The bout was held at the Madison Square Garden, New York City, New York, and it was Fielding 1st title defence fight, He never really put up a good defence, despite his height advantage of 6ft 1in and reach of 75in compared to Alvarez height of 5ft 9in and reach of just over 70in. Fielding never impose himself on Alvarez.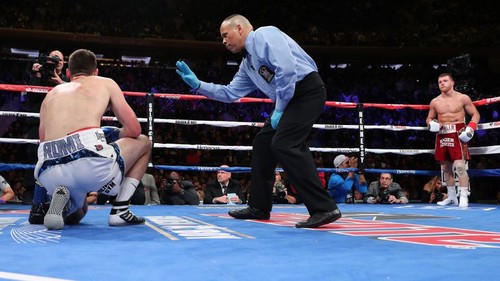 Alvarez aka Cinnamon widely known for his devastating body punches, lived up to his name, as he battered Fielding with ruthless body punches, right from the word go, and it was a matter of time before Fielding was on his knees, he recovered and saw off the 1st round.The 2nd round resumed in like manner with Alvarez picked up from where he left it, with combinations of jabs and body blows, Fielding soon found himself on his knees for the second time, like it was in the 1st round, he mannaged to saw off the round. By the time the 3rd round started, Alvarez brimming in confidence, saw his chance and took it, he stepped up the gas, and it was not long before Fielding was back on the floor, this time the referee had seen enough, and had to call it halt, and gave it to Alvarez on TKO.
Canelo Alvarez can now boast of having titles in 3 weight categories with this WBA Super Middleweight World champion, after already been champions in Middleweight WBC and WBA titles, and WBO champion in the Light Middleweight. His career fight now stand at 50 wins, 34 by KOs, 2 draws and a solitude defeat to Floyd Mayweather Jnr.
An elated Alvarez said in his post match comment; "fortunately for me, he came to attack, and that was the error he made, but i did my thing in there".
He also said; "that was the plan in the gym, that was the plan to hit the body..."
What more can one expect from a man that got his game plan worked out perfectly fine for him.
For Fielding, i feel sorry for you and only can urge a man that got hit below the elbows to pick himself up and try again, remember the wise saying;
"Ones best success often comes after their greatest disappointment" - Henry Warx Beecher.
PS: Happy Moanday to Jose Mourinho in advance...😅
Thank you all for supports.