Hello! Friends,
Being a superstar does not mean a punch can not hit you. The victory Fury claimed has brought in challenge from Dubois who believes he can fight Fury and win.
The fight between Tyson and Ottois was bloody and Fury nearly lost his title just like how Anthony Joshua lost his own. Daniel Dubois may take u Fury any time soon following the fact that he belief he can fight any heavyweight champion. The last fight of Fury has made it 22 unbeaten for the British heavyweight and ready to move higher.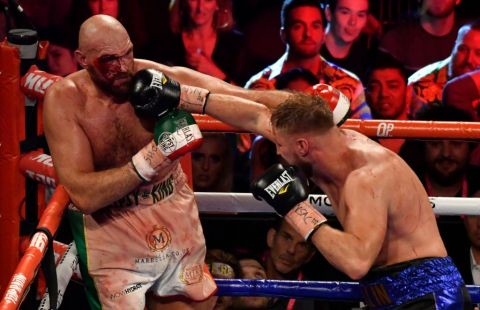 The toughness in that fight made it interesting as it revealed the reality of life. Otto Wallin targeted Fury face, hit it and this did not stop him from fight in three round. Fury continued tgenfight until the victory emerge and Daniel Dubois commended Fury for his understanding of boxing strategy which brought in a victory moment for Fury team.
Now, as it is, who is the best boxing in the world..... ;
Are you thinking is Fury, oh Andy Ruiz Jr, or you are thinking about Joshua Anthony or is Daniel Dubois? All these name mentioned are great fighter with record.
Just like what I mentioned earlier, boxing and lifestyle are same. In life we face with challenges and just like what Daniel said, boxing life says, no matter how good and strong you can knockdown at any point but your ability not to give up, is the uniqueness in your victory just like what happened to Tyson.
It was a shocking moment with AJ when his was lifted away from him, fight is individual and you are the one to write the story of your life. This means that, the world is crazy but it is only those that believe they can conquer will definitely conquer.
Daniel has challenge Fury Tyson, we shall see what will happen.
Do you think the Daniel DuboIs capable?
Who do you is the world best fighter?
Drop your comment and let's learn together.