Boxers began to unleash their fight on November 10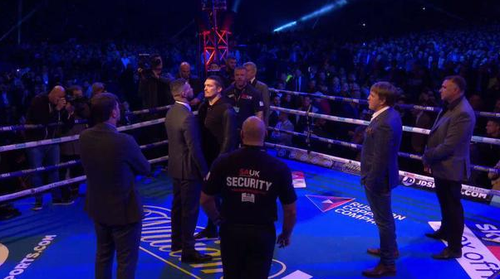 On Saturday, September 22, at London's Wembley Stadium, a boxing evening was held. The main event of which was the champion fight in the heavyweight. Briton Anthony Joshua has retained the championship belts by versions of IBO, WBA, IBF, WBO. In the seventh round, Joshua effectively knocked out Russian challenger Alexander Povetkin.
Before this fight, the absolute world champion in heavyweight champion Ukrainian Alexander Usik (15-0, 11 KOs) and British Tony Bellew (30-2-1, 22 KOs) came to the ring. The boxers held the first duel of views, starting to unleash their duel, which will be held on November 10 in Manchester.
Interestingly, the other day, doping officers came to the training camp of Usik. According to the rules of the WBC, boxers from the top-15 rating of the organization are required to undergo checks for the presence or absence of banned drugs, wherever they are.
Usik now began preparing for a fight against the British Tony Bell, which will be held on November 10 in Manchester. At stake are all the titles of the Ukrainian champion. It is likely that this battle will be for Alexander the last in the first heavyweight - the Ukrainian intends to rise in the super heavyweight weight category.