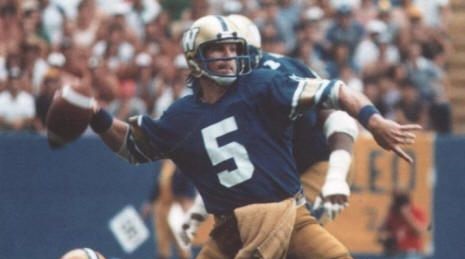 By Zane Miller
In seasons 21 through 25 of the Canadian Football League, the Edmonton Eskimos (now Edmonton Football Team) won all five of the championships during this span, increasing their CFL championship total up to six. The five consecutive championships still stands as the most in CFL history.
The Montreal Alouettes were runners-up in 1978 and 1979, while the Hamilton Tiger-Cats finished in the runner-up spot in 1980. The Ottawa Rough Riders lost in 1981, while the Toronto Argonauts came up short in 1982.
Winnipeg Blue Bombers quarterback Dieter Brock earned the most Most Outstanding Player Awards during this span, winning in 1980 and 1981 as he scored a combined 60 passing touchdowns and 9,044 passing yards in those two seasons.
1978 MVP: Tony Gabriel (Ottawa Rough Riders, TE)- 11 TD & 1,070 yds receiving
1979 MVP: David Green (Montreal Alouettes, RB)- 11 TD & 1,678 yds rushing
1980 MVP: Dieter Brock (Winnipeg Blue Bombers, QB)- 28 TD & 4,252 yds passing
1981 MVP: Dieter Brock (Winnipeg Blue Bombers, QB)- 32 TD & 4,796 yds passing
1982 MVP: Condredge Holloway (Toronto Argonauts, QB)- 31 TD & 4,661 yds passing
1978 best record: Ottawa Rough Riders (11-5, .688) Worst record: Toronto Argonauts (4-12, .250)
1979 best record: Edmonton Eskimos (12-2-2, .857) Worst record: Saskatchewan Roughriders (2-14, .125)
1980 best record: Edmonton Eskimos (13-3, .813) Worst record: Saskatchewan Roughriders (2-14, .125)
1981 best record: Edmonton Eskimos (14-1-1, .933) Worst record: Toronto Argonauts (2-14, .125)
1982 best record: Edmonton Eskimos (11-5, .688) Worst record: Montreal Concordes (2-14, .125)
1978 playoffs
Out in first round: Winnipeg Blue Bombers (L 38-4 to Stampeders), Hamilton Tiger-Cats (L 35-20 to Alouettes)
Out in second round: Ottawa Rough Riders (L 21-16 to Alouettes), Calgary Stampeders (L 26-13 to Eskimos)
1979 playoffs
Out in first round: Hamilton Tiger-Cats (L 29-26 to Rough Riders), BC Lions (L 37-2 to Stampeders)
Out in second round: Calgary Stampeders (L 19-7 to Eskimos), Ottawa Rough Riders (L 17-6 to Alouettes)
1980 playoffs
Out in first round: Ottawa Rough Riders (L 25-21 to Alouettes), Calgary Stampeders (L 32-14 to Blue Bombers)
Out in second round: Winnipeg Blue Bombers (L 34-24 to Eskimos), Montreal Alouettes (L 24-13 to Tiger-Cats)
1981 playoffs
Out in first round: Winnipeg Blue Bombers (L 15-11 to Lions), Montreal Alouettes (L 20-16 to Rough Riders)
Out in second round: Hamilton Tiger-Cats (L 17-13 to Rough Riders), BC Lions (L 22-16 to Eskimos)
1982 playoffs
Out in first round: Hamilton Tiger-Cats (L 30-20 to Rough Riders), Calgary Stampeders (L 24-3 to Blue Bombers)
Out in second round: Winnipeg Blue Bombers (L 24-21 to Eskimos), Ottawa Rough Riders (L 44-7 to Argonauts)
Grey Cup results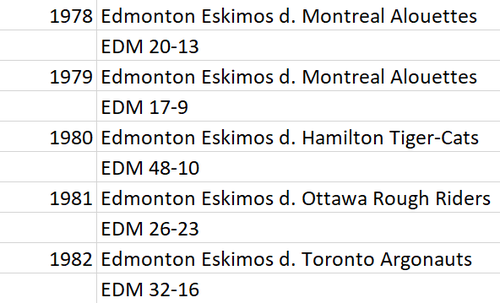 Link to stats database: https://www.cflapedia.com/Years/1978details.html through https://www.cflapedia.com/Years/1982details.html
Follow me on Twitter: https://twitter.com/Zmiller_82