Shahid Afridi & Shakib Al Hasan both are the most loved all-rounder in Asia. Both have huge fan base. Let's see the comparison between Shahid Afridi and Shakib Al Hasan.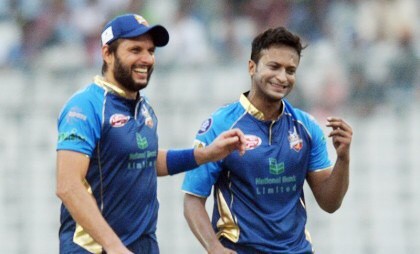 Shahid Afridi was born in 1st March, 1975 in Khyber Agency, Pakistan. He made his international debut in odi against Kenya in 2nd October, 1996, in test against Australia in 22 October, 1998, in t20i against England in 28 August, 2006. He made his debut as a right arm leg spinner. He is widely considered as one of the most popular cricketers of all time. An all-rounder, Afridi bowled leg spin and was recognized for his aggressive batting. Afridi was also a world record holder, holding the record for the fastest ODI century, in 37 deliveries. The record stood for 17 years before being broken by Corey Anderson.[4] He also holds the record for having hit the most sixes in the history of ODI cricket. He hit 351 sixes in odi cricket. He played 27 test matches and scored 1716 runs and took 48 wickets. His batting average 36.51 and bowling average 35.60. He scored 5 centuries and 8 half-centuries and a five wicket haul. In odi cricket, he played 398 matches and scored 8064 runs and took 395 wickets. In t20s, he played 99 matches and scored 1416 runs and took 98 wickets. Afridi was player of the match in the 2009 T20 World Cup Final of the 2009 T20 World Cup scoring an unbeaten 54, having also been the player of the tournament in the 2007 edition. He led the Pakistan team in the 2011 Cricket World Cup where they reached the semi-finals before losing to rivals India. In January 2010, he was banned for the rest of the series against Australia after biting the ball in an act of ball tampering.[8] In Test's Afridi was captain for just one match before resigning and retiring from the format, a move which allowed Salman Butt to replace him. After Pakistan's group stage elimination from the 2016 T20 World Cup, Afridi said he was stepping down from captaincy but not retiring. However he was not selected afterwards and on 19 February 2017, Afridi announced his retirement from international cricket. He made a brief return to international cricket after being selected to represent and captain the World XI against the West Indies in the 2018 Hurricane Relief T20 Challenge charity match. Following the conclusion of the match, Afridi announced his retirement from international cricket on 31 May 2018.
Domestically Afridi has represented many teams. He was the captain of Peshawar Zalmi in the 2016 Pakistan Super League, having been the first player to be picked in the competition, and won the trophy with them in 2017. He also represented the Karachi Kings in 2018 and currently plays for the Multan Sultans in the PSL. He has also played for Hampshire scoring his only T20 century with them and is the current captain of Galle Gladiators in the Lanka Premier League.

On otherside, Shakib Al Hasan is the best all-rounder of Bangladesh. He was born in Magura, Bangladesh. He debut as a all-rounder. He made his test debut against India in 2007, odi debut against Zimbabwe in 2006 and t20 debut against Zimbabwe in 2006.
He is a left arm batsman and left arm off-spinner. He played 58 test matches, 215 odi matches and 79 t20 matches. He scored 3933 test runs, 6600 odi runs and 1604 t20 runs. He took 215 test wickets, 277 odi wickets and 95 t20 wickets.