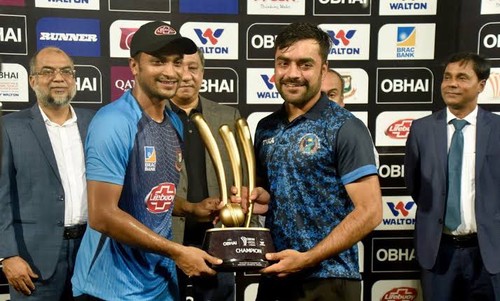 The Afghan spinner did what Rashid did in response to Shakib's smile on the board
Shakib Al Hasan and Rashid Khan's caution in the game.
The battle of these two eternal rivals was seen once again at the Chittagong Stadium. Shakib Al Hasan must have laughed the last laugh in this fight. Shakib-al-Hasan picked up Rashid Khan's wicket on the heads of three sisters.
Shakib-al-Hasan smiled at Tafsir and Rashid Khan could not escape his eyes. Realizing that the fight was lost, Rashid did not raise the issue further. He too has smiled and taken the road to Babylon. Meanwhile, Shakib was not bowling at the cost of 49 runs in his first over. He got the wicket in his personal ninth over.
Gulbadin's Naib Kelek, who took 16 runs, was trapped by Shakib's review. Shakib's conflict with Rashid is quite old. Volleyball Mujibur Rahman of Afghan Field was bowling in the incident of 2016 bilateral series. Shakib Al Hasan was on the batting side on both sides when Riyad was seen running from the girl in the first ball of the over. Although Ampere Raj did not listen to it but the real problem was then Rashid Khan's complaint then what Shakib said to him and it went to the stage of a lot of quarrel.
After that, Shakib handed over a ball to Mitton and the one that fell into Mujib's hands, Rashid Khan won the fight that day and today Shakib Al Hasan won.