In a parallel universe England are already 2-0 up in this Ashes series and all the talk is whether we will whitewash the Aussies on our way to maintaining an 18-year winning streak at home against our bitter rivals. It's not to be .....
We've let go a situation in the first Test where for 2 sessions we saw the Australian batting once again disintegrate in English conditions only to see them rescued by the returning Steve Smith. Smith once again proved to be the saviour and was perhaps only prevented from playing the role of match-winner once more after sustaining a life-threatening injury. Thereafter we were left pondering the age-old question is it cowardly to pray for rain? The answer to which is a resounding no if you are an Australian batsman having to face Joffra Archer.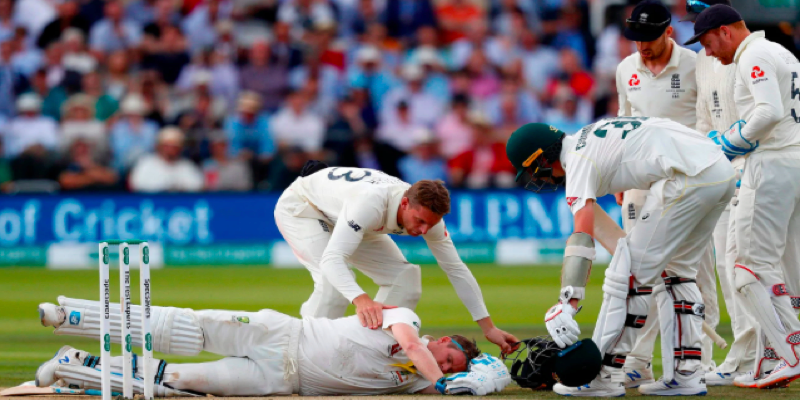 While injury and weather have conspired against the home team so far it would also be fair to say that their performances don't deserve a lead in this series. I haven't written much about cricket of late which is partly down to the fact that I just fancied a break and partly due to there being very little new to talk about in regards this England team's performance. Our batting is weak, our bowling at least up until the introduction of Archer is one-dimensional and our leadership non-existant. I've said it all before and like a broken record I could repeat it all again but what's the point?
What you can't deny is that England play exciting Test Match cricket. That is as much a result of them being unable to dominate sides with the bat as it is anything else. Were we playing in Australia or India you would expect that home nation to pass 400+ at least 3 times in a 5 game series but for England it is a struggle on most occasions to get beyond 300. That always keeps the opposition in the game and while I and other England supporters can lament some bad luck the fact remains that had it not been for a Joffra Archer thunderbolt nearly decapitating one of the best batsmen of their generation and another excellent Lord's performance by Ben Stokes, England could easily find themselves sliding towards Ashes oblivion.
This was always likely to be a series dominated by the ball which is precisely why it will be a batsman who wins you the game. Steve Smith has done it once for Australia but he has since been ruled out for the 3rd Test that starts on Thursday. With England not having a player of his calibre in their ranks then it seems likely that it will need to be a team effort. Can they get enough batsmen firing at the same time to put some scoreboard pressure on the Aussies and then ram home their advantage?

There are signs of life amongst the likes of Rory Burns who has had an excellent series to date and Ben Stokes who struck a magnificent hundred at Lords. England will be buoyed by the fact that Buttler and Bairstow also had some time in the middle during the 2nd Test and as I identified before the series that "engine room" at number 5, 6 and 7 will be an area that we feel we can be more effective than the Australians.
Travis Head has done well without really going on to get a big score and while Matthew Wade did get a hundred in the 1st Test he has also delivered 3 single-figure scores either side of that. That century came very much when Australia were on top at Edgbaston but Wade has yet to show he is capable of resisting when things aren't in his side's favour. England will also be encouraged by the fact that they are getting Wade out in a variety of different manners - LBW to the inswinger, caught at gully to the away swinger and gloving a catch to short-leg off the spinner. A truly world-class operator would be able to take away at least one of those modes of dismissal, can Wade do that?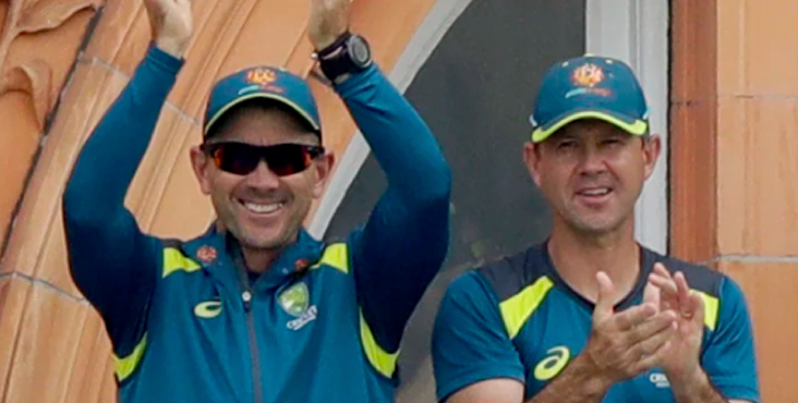 Then comes Tim Paine, the compromise candidate, the Jimmy Carter of cricket. Not quite a peanut farmer but well on his way to retirement from the middle before he was picked from obscurity and within a year found himself leading his nation through one of their most troubling times. To be frank he doesn't look up to this level of cricket and I think it is telling that Australia continue to invite the likes of Steve Waugh and Ricky Ponting into the dressing room. My feeling is a truly strong leader would want to define the team on his own terms and while I've no doubt it's helpful to have former greats to fall back on for advice their continued presence suggests a need to fill a void that should usually be covered within the playing 11 itself.
Of course, Australia aren't the only ones suffering a leadership crisis. I'll write a full blog on the role of Root, what might occur post-Ashes and who will fill the Head Coach role after Baylis departs next month. The bottom line is that Root's career has flat-lined since he took over the captaincy. His performances in particular against the other top Test-playing nations are of particular concern and while his overall record still looks good on paper he continues to slip away from the truly elite players such as Kohli and Smith.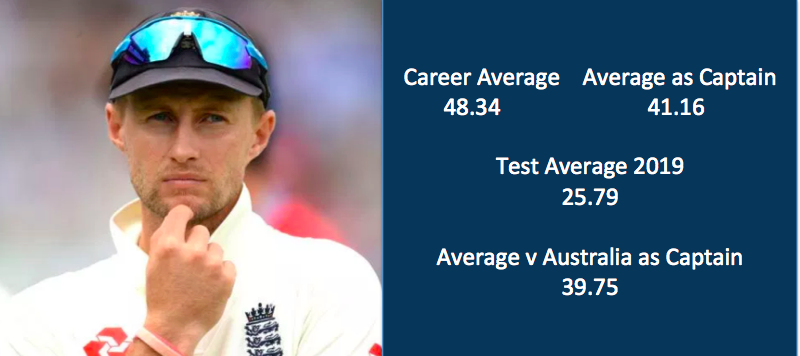 Elsewhere Jason Roy appears to be having an existential crisis that is mirrored by his opposite number David Warner. Warner's record in England is proof that openers of his and Roy's ilk rarely do well at the top of the order in these conditions. However, you feel that even a cameo fifty from either player might be enough to provide momentum that their respective middle order can build on. Both players are well and truly under the pump, is it time for them to throw caution to the wind and go down swinging? Death or glory awaits.
Test Match cricket is once again showing why it is the ultimate format of the game and still one the purest contests in the world of sports. Punch is followed by counter-punch and there is no escape from the all-encompassing arena of a 5 Test series. A couple of Australia's batsmen have literally pulled themselves up off the canvas to beat the count, can England press home that advantage and get them up against the ropes at Headingley? If they do, they'll need to ensure they finish the job this time around.......