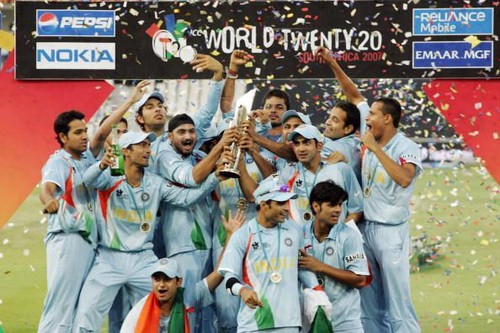 The T20 format is the most entertaining & most attractive form of cricket other than the One-day international format or the test format. T20 is a format of cricket which have 20 overs for a team and a game will take around 3-4 hours to finish. Very 1st T20 men's international game held in 2005 between Australia vs New Zealand, which was won by Australia. With getting a huge fan base day by day, International Cricket Council (ICC) decided to organize T20 world cup in 2007. So, after 13 years, the 7th edition of ICC World T20 will played in Australia later this year. So, this article takes back you to 2007, to rewind your memory about inaugural world T20.
So, the inaugural ICC WORLD T20 was held in South Africa in 11th to 24 th September 2007. The 12 international teams participated in that event. Australia, South Africa, India, England, Pakistan, Sri Lanka, New Zealand, West Indies, Bangladesh, Zimbabwe qualified for the tournament as ICC full member nations, apart from them Kenya & Scotland also played as Associate nations.
Venues:
Only 3 stadiums host the entire tournament.
1) Kingsmead stadium-Durden
2) Newlands Cricket Ground- Cape town
3) Wanderers Stadium- Johannesburg
Tournament Structure:
The tournament consists of Group stage, Super 8 round and knockouts.
In the group stage 12 teams divided into 4 groups (as 3 teams in one group).
GROUP A- South Africa, Bangladesh, West Indies
GROUP B- Australia, England, Zimbabwe
GROUP C- Sri Lanka, New Zealand, Kenya
GROUP D- India, Pakistan, Kenya
So top 2 teams in each group qualified for the Super 8 round. (The qualified 8 teams show in bold letters)
The matches of super 8 round was played in 2 groups.
GROUP E- INDIA, NEW ZEALAND, SOUTH AFRICA, ENGLAND
GROUP F- PAKISTAN, AUSTRALIA, SRI LANKA, BANGLADESH
The top 2 teams in each group qualified for the semifinals.
Semi Final 1: PAKISTAN VS NEW ZEALAND
Semi Final 2: INDIA VS AUSTRALIA
Pakistan won the 1st semifinal & India won the 2nd semifinal.
FINAL: INDIA VS PAKISTAN
India beat Pakistan in the final and won the inaugural ICC WORLD T20.