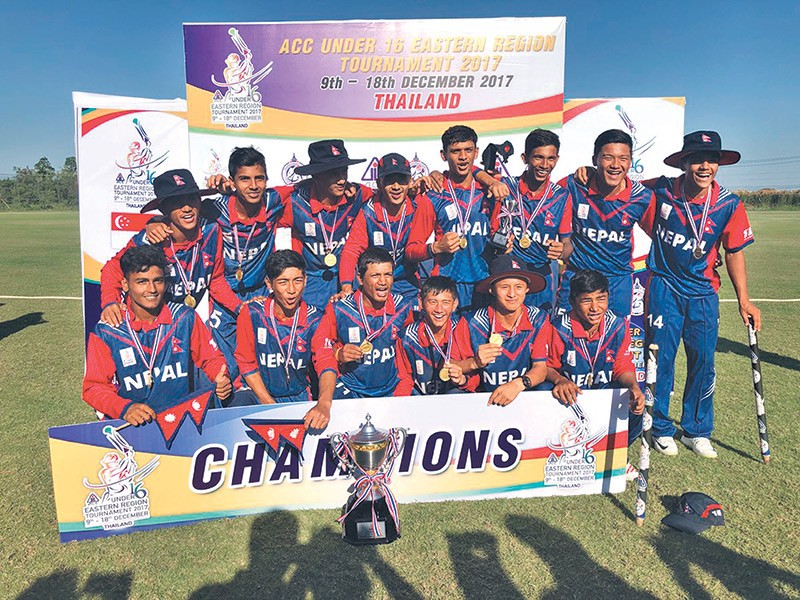 Nepal becomes the winner of the Asian Cricket Council Under - 16 Eastern region by defeating Malaysia by 59 runs in the final of the tournament. Nepal were the defending champions and they defended the title. They won this tournament twice in a row. The previous version of this tournament was held on 2017 in Malaysia in which Nepal made the trophy on her name by defeating Singapore on the final.
Nepal won the toss and as always they preferred to bat first. Nepal made 141 runs on the board. Chasing the target, Malaysia were dismissed on 81 runs in 34.5 overs. Bishal Kumar Patel took 4 wickets for Nepal. He conceded 18 runs in 7 overs with a maiden. Dipak Bohara took 3 wickets. He conceded 16 runs in 7 overs with a maiden. Nikhil Kumar Singh took a wicket as well. He bowled 6 overs by conceding 6 runs with a maiden. Krish Karki took a wicket as well. He just gave 1 run by bowling 0.5 overs.
The Malaysian batsman Mohammad Hajik top scored their innings with 18 runs. Mohammad Azam scored 16 and Jinendra Murli scored 14 runs for Malaysia. No other batsman could score in double figures.
In the Nepalese innings, Prashant Mahat top scored their innings with 40 runs. He faced 67 balls and made 5 fours in his name. Dipak Bohara scored 23 runs, Bishal Bikram Kc scored 17 runs and Nikhil Singh scored 13 runs for Nepal. No other batsman could make double figures for Nepal. Malaysian bowler Sachinu took 3 wickets and Jinendra Murli took 2 wickets for them.