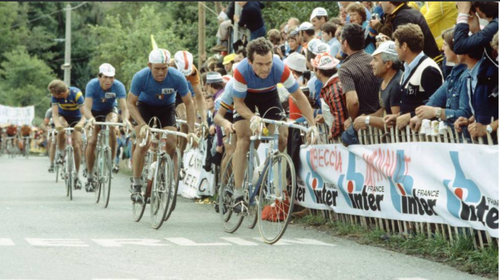 In 1980, Hinault, on the best day of his life, swept a test in which only 15 runners finished. Our Juan Fernandez won the bronze medal.
It was August 31, 1980 and none of those who ran it have forgotten it. The day before, Anquetil warned: "Here they will finish 15". He nailed it. They finished 15. Hinault won, on the best day of her life. Our Juan Fernandez won the bronze medal. He still has it for the worst day in his life.
That was in Sallanches, in Haute-Savoie, at the foot of Mont Blanc. A circuit of 13.4 kilometers, which had to be done 20 laps, so 268.4 kilometers in total. The plot was in the middle of the route: the Côte de Domancy, on the outskirts of the city. A slope of 2.7 kilometers, in which it climbed 200 meters. Some ramps were up to 16%.
Juan Fernandez remembers that they were three days before, to adapt. The next day they made the circuit:
When we went up, we looked at each other. We were all saying the same thing with our eyes: that we did not finish one.
To make matters worse, it was raining when the 127 runners started up. From the beginning, Hinault took the lead, along with some colleagues and put tralla. On the third lap De Muynk tried to jump and Hinault in person neutralized him. Then he sent Mariano Martín ahead and he continued to harass the platoon, possessed by a rare fury. I arrived at that World Cup with contained anger. He had won the Giro, but the Tour had to abandon him, leader and with three stages won, due to tendonitis. He was criticized for having tried to abuse his body, for believing himself to be a superman. And decided to charge them that day.
With that rhythm, many passed the hill with difficulties, and in the pursuit in the descent on wet, the falls abounded. Each lap took the platoon a slice of runners, first those who fell, then those who fell more exhausted, than the step by goal they got off. Moser, Kneteman, Rass, the last three champions, were among the first victims. The Spanish began to fall like ripe fruit in the middle of the test.
On lap 13, Hinault escaped. Pollentier, Baronchelli, Millar and Marcussen came after him, and managed to catch up with him. But on each climb, he hit a zurriagazo and so he left them. The last one he released was Baronchelli, three laps from the end. And already it followed alone towards the victory.
Shortly after he left Rupérez: "I can not anymore," he told Juan Fernandez, who by then already thought "what I paint here." He was thinking about getting out of the way before the car of Mendiburu, team manager, approached him: "Give him, Juan, give him, suffer there! You're the last one we have, finishing today is already a feat! " Juan Fernandez was cold, cramped and exhausted, but he felt obliged to suffer three more laps.
Hinault entered triumphantly, in a time of 7h 32m 16s, seven and a half hours long in which he seemed to enjoy torturing his fellow workers. Baronchelli entered the minute and peak. Almost five rolled a small group suffering and suffering, which was still raffled a prize, the bronze medal. Juan Fernández, Marcussen and Roger de Vlaeminck got off on the last climb, in which they were Panizza, Boyer, Pronk and Nilsson. The stragglers pressed and managed to connect in the last corner of the circuit, when those in front and watched each other. With the merger, Boyer jumped, and behind him De Vlaeminck, who neutralized him. In the ensuing break, Juan Fernandez jumped, still does not know how: "Everyone was exhausted, none came out, I tried, and prize!". Then there would be six more runners arriving, emaciated, supported by self-love to finish.
By then, a bronze medal in the World Cup was a feat in our cycling (only had Tarzan Saez, in 1967, then Juan Fernandez would do it twice more). Mendiburu embraced him excitedly: "You have saved us, you have saved us!" It would have been a shame for him that no Spaniard arrived.
He climbed the podium like an automaton. Someone asked for an autograph and signed it with fingers so stiff that he could not let go of the pen. And from there, to anti-doping control.
"It was on the second floor of a sports center. I climbed like an old man, holding onto the railing, hesitant. That's what happened to me Hinault, who went up the stairs two by two. He looked at me, he smiled at me and said: 'Ça va? [How are you?] 'And he went on up. "