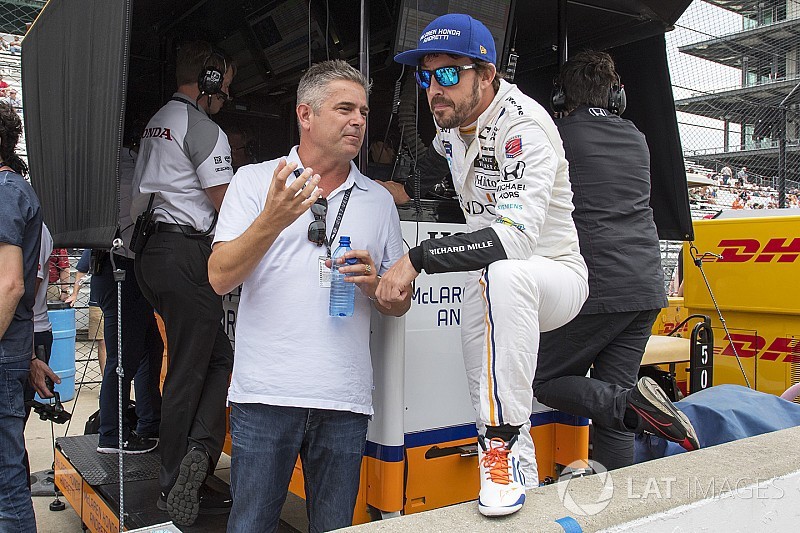 The sporting director of McLaren praised Fernando Alonso and spoke about his possibilities in the future, which point to Indy
Gil de Ferran was chosen as coach of Fernando Alonso in his debut in the Indianapolis 500 in 2017. The former driver then joined McLaren as a consultant and, after leaving Eric Boullier, became sports director of the team.
Although he admits that until last year he only knew Alonso of a brief greeting in 2005, he was able to know how the two-time champion is in the professional and personal plans, and could not be more surprised. In a meeting with journalists in which Motorsport.com was present in Singapore, de Ferran tore praise for the Spaniard.
"He's one of the best in sport history, not just Formula One, he's an excellent driver," he said.
De Ferran explains that what defines a great driver is not just the speed, and said that Alonso brings it all together.
When a young pilot tells me he is fast, I say, 'Okay, well, you have a virtue and there are another hundred more that you need to do. to be good'".
"Fernando has a great score in all qualities, he is very clear with the engineers, he works very well with the mechanics, with the team, he adapts very well, he can handle a variety of different events incredibly well. pilot."
And there, in the midst of so many compliments, Ferran confesses: "I could not be more impressed with him."
The Spaniard will not be in Formula One in 2019, and said he hopes to clarify his future in October. Lately he has hinted at a trip to Nascar and has generated a lot of speculation, but the first option looks like IndyCar, although he insists that his test at Barber recently is nothing definitive.
Gil de Ferran believes that wherever the Spaniard goes, he will be competitive.
"Whatever he decides to do, he will do very well. A man of his professionalism and talent will be competitive in what he decides to do."
If IndyCar is finally the choice, the Brazilian will be there again to help if Alonso needs it, although he does not think he needs it.
"Of course, I will do my best to try to help you, but honestly, I do not think you need much help." In the Indy 500 obviously was not going to teach him to drive, I just tried to say 'look, pay attention to it , it's a little different from what you're used to, pay attention to that, 'and he quickly learned. "
Finally, the chances of the Spaniard in the American category, said that nobody wins easy to Indy 500 or the championship, but Alonso has everything to achieve.
"Nobody easily wins the Indy 500 because it's a very long event, very individual and ... Ah, Indy's entire championship? No one can easily win the title but he certainly has all the ingredients to fight for the Indy championship, there's no doubt."