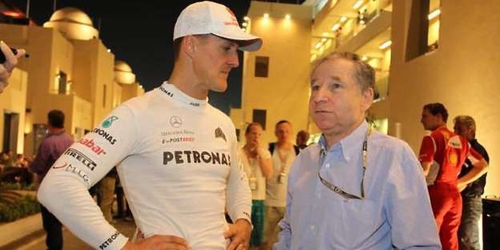 The moment Michael Schumacher talks with Jean Todtworldcarfans

The President of the International Automobile Federation (FIA), Jean Todt, is reluctant to give an explanation about Michael Schumacher's current health condition.
Jean Todt assesses the health of the former rider is a personal matter.
"He was surrounded by his family affectionately. I felt lucky to have access to visit him," said Jean Todt quoted by BolaSport . com from Tuttomotoriweb, Wednesday (1/7/2018).
"However, his health is a personal matter and I think it's time for us to allow Michael Schumacher to live his life in peace," he said.
It has been four years since Michael Schumacher was unconscious or in a coma so much speculation emerged about his health condition.
A few days ago came the news that Michael Schumacher's wife bought a luxury residence owned by Real Madrid President Florentino Perez.
The place is on the island of Mallorca, Spain, and is estimated to have a price of 27 million pounds (Rp. 508 billion).