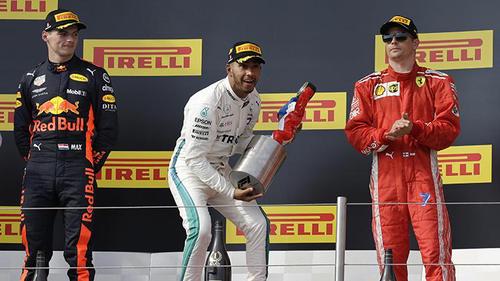 Lewis Hamilton won the French F1 race held at Paul Ricard Circuit on Sunday, June 24, 2018. Hamilton followed the Red Bull Racing racer, Max Verstappen, and Kimi Raikkonen from Ferrari who occupy the podium 3.
Ferrari racer Sebastian Vettel, who should have ranked third, had to retreat two stairs to 5th after receiving a penalty. Vettel was judged to have made a mistake that caused an accident on the first lap, so it must receive punishment
Hamilton who started from pole position, unstoppable in this race at Paul Ricard. He only one lap lost the position of the leader of the race, that is when doing a pit stop. He had overtaken Verstappen, but returned to lead when young Dutch rider pit stop.
Vettel who started from the third grid trying to take the lead position when entering the first corner after the start. But his efforts precisely trigger a collision, which requires the safety car to take the role when the circuit is cleaned from the remains of a collision.
Vettel has tried hard to get his position again. But a five-second penalty penalty enough to affect the final result achieved by the German racer.
Thanks to the victory in F1 French GP, Lewis Hamilton again occupied the top of the drivers standings after previously controlled by Sebastian Vettel. The next F1 racing series will be held at the Austrian GP on 1 July.
French F1 Results:
Lewis Hamilton GBR Mercedes AMG Petronas Motorsport 53 laps
Max Verstappen NED Aston Martin Red Bull Racing + 7,090s
Kimi Raikkonen FIN Scuderia Ferrari + 25.888s
Daniel Ricciardo Aus Aston Martin Red Bull Racing + 34.736s
Sebastian Vettel GER Scuderia Ferrari + 1m 01.935s
Kevin Magnussen DEN Haas F1 Team + 1m 19.364s
Valtteri Bottas FIN Mercedes AMG Petronas Motorsport + 1m 20.632s
Carlos Sainz Jr. ESP Renault Sport Formula One Team + 1m 27.184s
Nico Hulkenberg GER Renault Sport Formula One Team + 1m 31.989s
Charles Leclerc MON Alfa Romeo Sauber F1 Team + 1m 33.873s
Romain Grosjean FRA Haas F1 Team +1 laps
Stoffel Vandoorne BEL McLaren F1 Team +1 laps
Marcus Ericsson SWE Alfa Romeo Sauber F1 Team +1 laps
Brendon Hartley NZL Red Bull Toro Rosso Honda +1 laps
Sergey Sirotkin RUS Williams Martini Racing +1 laps
Fernando Alonso ESP McLaren F1 Team +2 laps
Failed Finish
Lance Stroll CAN Williams Martini Racing 48 laps
Sergio Perez MEX Sahara Force India F1 Team 27 laps
Esteban Ocon TRD Sahara Force India F1 Team 0 laps
Pierre Gasly FRA Red Bull Toro Rosso Honda 0 laps
Standings Racer:
Lewis Hamilton GBR Mercedes AMG Petronas Motorsport 145 points
Sebastian Vettel GER Scuderia Ferrari 131 points
Daniel Ricciardo AUS Aston Martin Red Bull Racing 96 points
Valtteri Bottas FIN Mercedes AMG Petronas Motorsport 92 points
Kimi Raikkonen FIN Scuderia Ferrari 83 points
Max Verstappen NED Aston Martin Red Bull Racing 68 points
Nico Hulkenberg GER Renault Sport Formula One Team 34 points
Fernando Alonso ESP McLaren F1 Team 32 points
Carlos Sainz Jr. ESP Renault Sport Formula One Team 28 points
Kevin Magnussen DEN Haas F1 Team 27 points
Pierre Gasly FRA Red Bull Toro Rosso Honda 18 points
Sergio Perez MEX Sahara Force India F1 Team 17 points
Esteban Ocon FRA Sahara Force India F1 Team 11 points
Charles Leclerc MON Alfa Romeo Sauber F1 Team 11 points
Stoffel Vandoorne BEL McLaren F1 Team 8 points
Lance Stroll CAN Williams Martini Racing 4 points
Marcus Ericsson SWE Alfa Romeo Sauber F1 Team 2 points
Brendon Hartley NZL Red Bull Toro Rosso Honda 1 point
Romain Grosjean FRA Haas F1 Team 0 points
Sergey Sirotkin RUS Williams Martini Racing 0 points
CRASH | MOTORSPORT