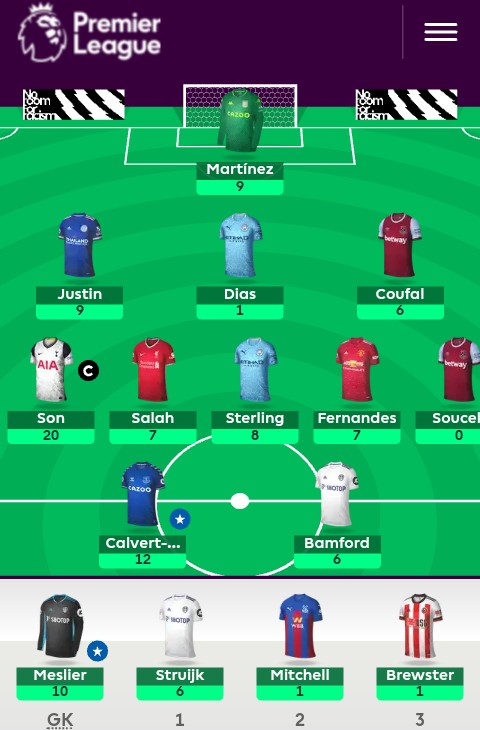 SOME PLAYERS rewards one while some others de-reps one week in, week-out this makes FPL interesting as there's no single way traffic to making right decision, as there are always better possible decisions one could have made, attimes you sit back and appreciate your head for making a right decision even when not certain.
Here are my players with their points:
Martinez with 9points
Justin with 9points
Dias with 1 point
Coufal with 6 points
Soucek with 0 point
Fernandes with 7points
Sterling with 8points
Salah with 7points
bamford with 6points
Calvert-lewin with 12points
And my Captain; SON with 10 points rewarding double to 20points.
ANALYSIS
GOALKEEPER
I do had the best of decision to select Martinez though I lost a point as I had MESLIER who had 10points on the bench but it happens
DEFENCE
Justin and Coufal rewarded me well with 9 and 6points each and a disappointing point from Dias, the assumed most consistent Defender, unbelievably I sold Dallas just some weeks back and he's been so consistent, surprisingly I lost 6points to the bench has I had Struijk of Leeds on the bench who had 6 points.
MIDFIELD
Midfield has been the most rewarding position week in week-out no wonder I always have 5midfielders in my team. Sterling, Salah and Fernandes had an average performance with 8 and 7points reward but SOUCEK got 0 playing throughout just to be redcarded few minutes to the end of the game. Son was a blessing though with 10points.
ATTACKERS
Am so glad that my consistency in leaving Calvert-lewin and Bamford in my attack paid up at last as they got 12 and 6 points
CHOICE OF CAPTAINCY
I was confused as I have it out to Dias first, changed it to Soucek before finally dropping it on the rewarding arm of Son due to his fixture plus the return of Kane