Seeing as I have recently rediscovered my own running shoes and dusted them down to pound the pavements around my hometown once more, I thought what better thing to do than to hail a running legend with week 5 of my weekly Wonder series.
What is the weekly Wonder series some of you may be asking? The idea is that each week I pick a sportsperson who was I consider to be a class above the rest in terms of ability and achievements in their field. This week I have chosen a legendary female long distance runner and fastest female marathon runner in the world: Paula Radcliffe.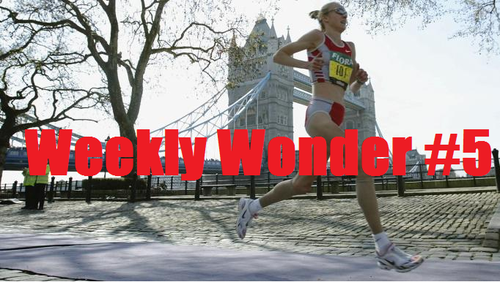 WHO IS PAULA?
She was born in the a quaint little spot just outside Liverpool in the United Kingdom. She turned 45 a week before Christmas and still loves running. I guess that inate love of her sport will never leave her and will always course through her veins.
Paula was an avid runner from a very young age and first took up running at the age of six, and even though she suffered with asthma as a kid, she stuck with the running and never let it get the better of her. She was the apple of her fathers eye. He was a solid amateur athlete and she quickly wanted to join him for those early morning runs and so started her long tradition of running and training. She soon joined her first running club in Frodsham.
As with so many families, circumstance dictated a move to a different part of the country five years later. The whole family upped sticks and moved South and ended up in a little town near Bedford. Paula was now twelve years of age and was a very keen runner. It didn't take long for her to join the local running club. The timing could not have been better. Alex Stanton was also at the club at the time was turning the womens team into a force to be reckoned with both locally and indeed nationally. He would prove instrumental in Paula's early development and so too would her parents. Her Dad also became involved with the club, taking up a senior position the board of directors. Indeed, it becaem a family affair, as her mother, a running enthusiast, became the manager of one the women's teams. Paula was part of her team and took part in her first non-local race in 1986 - the English Schools Country Championship. She was just twelve years old. She finished two hundred and ninety ninth of six hundred girls, though many were much older than she was. It proved to be a fantastic learning experience and when she returned a year later, still one of the younger athletes, she catapulted up the leader board to fourth place overall, narrowly missing out on a medal (this would become an unfortunate theme in her early running career). Already at age thirteen, she was showing the hallmarks of a special sportswoman and she was only just beginning.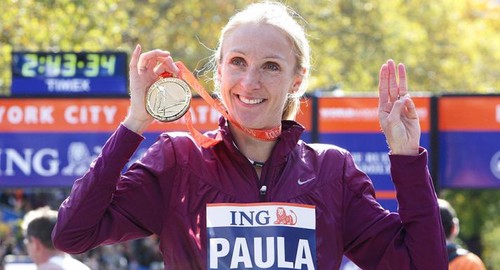 SUCCESS AND NEAR MISSES
As with most talented sportspeople, success soon followed and Paula was no different. In 1992, she crossed the finishing line first at the World Junior Cross country championships , aged just eighteen. It soon became apparent that she was not only an accomplished National athlete, but also one who could compete on the international stage and by 1995, she was competing at the highest level internationally.
At the 1995 World Championships, Paula finished fifth in the 5000 metres, again missing out narrowly on a medal. That was to become an unfortunate trend for Paula in those years. She would run in her unique pace setting style, but often got pipped in the later stages of races as her competitors sat on her shoulder ready to pounce late on in races. Paula would agonisingly run out of gas in the last few hundred metres and it must have been a very frustrating time for her and her coaches.
This pattern of near misses was eventually the catalyst for change and maybe all of her success as a marathon runner would never have happened were it not for this series of near misses. Everything happens for a reason I guess. We were a couple of years into the new millennium in 2002 when she moved to the marathon distance and over the following years she would make it her own.
Just missing out on medals in the shorter distances, encouraged Paula to increase her distance, and in 2002, she moved up to the marathon distance. This proved to be more suitable to Paula's talents, and she gained considerable success at this distance.
MRS MARATHON
If her early running career started off slowly, as she went from strength to strength, then her marathon running career was the polar opposite.
In her very first year of marathon running, she blew the competition away on her way to winning the London City Marathon. She even set a world best time for a womens only race. In October of the same year she won the world famous Chicago Marathon and not only that, she also became the fastest female marathon runner of all time by clocking a world record time of 2:17:18 on the thirteenth of October, 2002. Paula was now writing her name into the record books and was quickly becoming one of the most recognisable and admired female athletes on the world stage.
Not content with merely breaking the marathon world record in her first full season, the following year in New York, she smashed her own record, when she ran the race in unbelievable time of 2:15:25. There are plenty of amateurs who have clocked a time like that for a half marathon!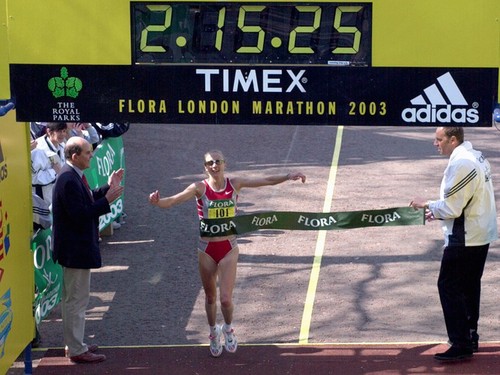 OLYMPIC DISAPPOINTMENT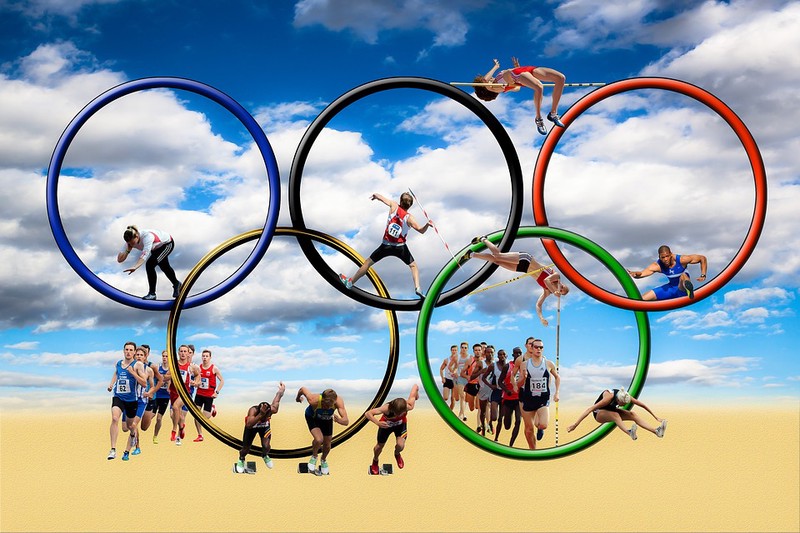 Such was here swashbuckling form as she beat a well worn path around the highways and byways of world marathon running, she wore a firm favorite tag for the 2004 Olympic Marathon in Athens. The weight of public expectation weighed heavy on her shoulders and a leg injury made her preparations all the more difficult. As a result, she was far from her best when the Olympics finally came around. It was to get still worse for Paula. A tummy bug brought on by prescription medication all but ruined her Olympic dream. Even though she was struggling to eat, she still started the marathon, but sadly she had to retire near the end of the race. She made it the the thirty six km mark and then broke down in tears as she bowed out and it was one of the saddest sights of that Olympics for the people of Great Britain. Paula being Paula, she would not give up on her dream of Olympic gold and she stuck her name down for the 10,000 metres a few days later, but once again she had to retire before the end of the race. She is a well balanced individual and although gutted by missing out, she was still able to take a positive from the whole experience. It made her battle-hardened for the next hurdle which stood in her way.
RETURN TO FORM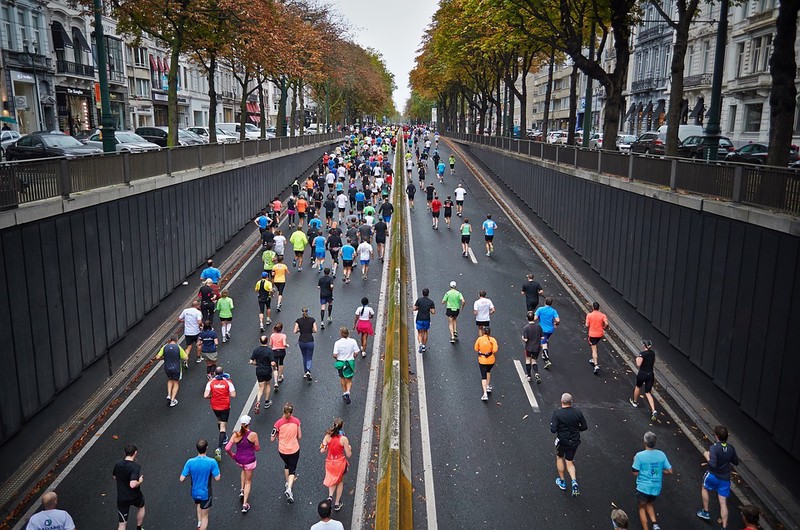 After finally putting the disappointment of the Olympics behind her, Paula got back to her dominating best. She entered the New York marathon in 2004 and went onto win it convincingly. The following year she added to her honours list by clinching another London marathon. Her performance was vintage Radcliffe, but will be remembered by many for all the wrong reasons and poor Paula released herself in front of the watching world during the race and became a target of ridicule for many years as a result.
Leaving that wee incident behind her, she continued on her winning form in August, 2005. She won her first gold medal in an international championships. In a typically dominant performance, she won the women's marathon in Helsinki up in Finland. She crossed the line with 2:20:57 displayed on the huge clock over the finish line.
Paula joined the long list of British sports people to be awarded an MBE in June 2002. She was beaming from ear to ear as she picked up her medal. That was not the only prize she claimed that year - she also won the BBC Sports Personality of the Year award in 2002, fighting off competition from David Beckham, among others. I'm sure the MBE has pride of place on the mantlepiece or on a wall in her home, or perhaps it's just thrown in a drawer! Who knows :o)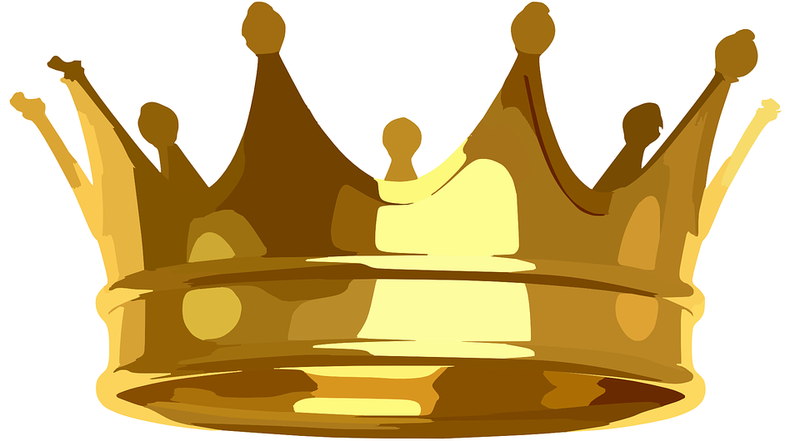 She finally hung up her running shoes in 2015, after finishing the London Marathon. What a place to bow out and what a lady, athlete and person she was and is. Thank you for the memories Paula. I was going to write this Weekly wonder about my own country woman Sonia O'Sullivan, but I figured that would be a bit predictable, so I opted for an athlete from our neighbours across the channel instead. I think I might go with an Irish sports star next week though, as I have managed to get to week 5, without my favoritism for Irish stars showing just yet. In fact I have someone pertfect in mind for the time that's in it. Tune in next week to see who it is!
Thanks a million for reading as always.
Peace Out.