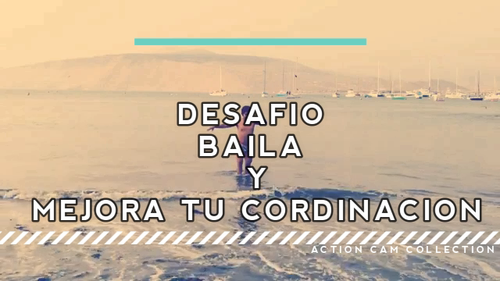 Introduction:
Today we continue with the training challenge where it is time to move the body to the rhythm of music, my intention is that people are in motion consent because now people are as long as possible connected to computers or are more Pending on their cell phones completely avoiding the exercise and hence comes the excuse that there is no time. Many times they talk about exercising in their words but now it's time to say less words and more action. I mean giving the example. That is why I am the reason for my training challenges. Now is invited friend Reader to participate. Repeat with me I want, I can.
Now explain the dynamics of the sporting challenge is very easy and simple.
Objective:
The challenges are also to know in a funny way the different trainings with the intention to promote health to your body and mind. In my case I love to train dance, aerobics, and yoga
Also cultivate the habit that more people practice the sport consents.
How to participate:
Make your blog entry
Leave your link in the comments of your blog.
You can participate alone, in family, couple you choose your style.
Prize:
For now wants to motivate you with my vote at 100% and join discord where we are forming a community of loyal bloggers for always have support in your blog.
The important thing is that your heart beats with joy and adrenaline. Also the opportunity to meet other bloggers and make friends.
Content:
We have more creativity when there is inspiration, we have more inspiration when there is good breathing, we breathe well when we have activity, always move you have 18.20, 30 50.60, 70 or 80 years always move because life is movement. In addition you will fight hypertension known as high blood pressure which is one of the silent killers that kills. That is why the importance of these challenges that not only you win, but your body becomes healthier.
Besides sport is like a means to your peace of mind and your total health. When you do sport you feel like you are one with the universe.
That said now I will put the video of today's challenge and my wish is that you participate with positive attitude.
Well now you only have to make a video of yours like the video, do it your style.
Well if you have done in practice I congratulate you for having done and participate.
Conclusion:
Now I would like to ask you how you felt with the challenge, have you ever trained this way or first time you start.
I invite you to follow me on my blog and so be one of the first to read my content. See you until the next blog, Happy Day.
You want your content to be seen and cured loyally in your blog use the tag #loyalfriends and also invite you to make friends with other loyal bloggers joining to the Spartan community in discord: Https://discord.gg/g2exaed a place of loyal bloggers content Original.