Manag Marshyangdi Club (MMC) became the champion of Pulsar Martyr's Memorial A-Division League, Nepal after beating Sankata Club (SC) by 3-1 yesterday. MMC is the only team still unbeaten in the league. Defending champion MMC won it again before 2 games to finish the season.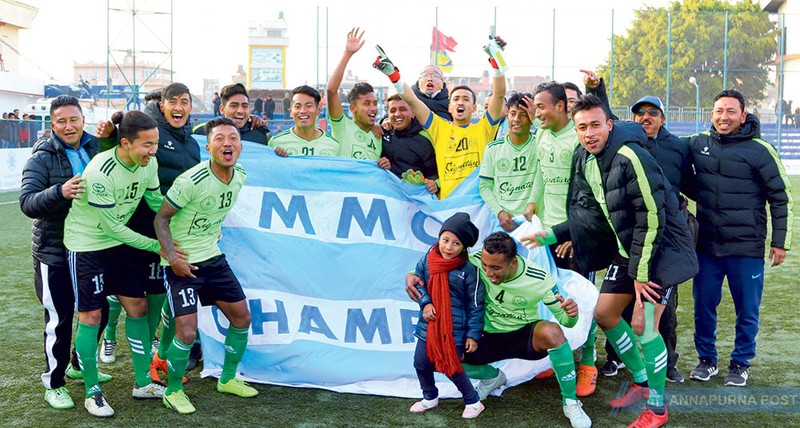 The game was like one-sided, especially in second half. Sankata was playing defensively since the start as they looked like in more pressure. SC created some chances in the 1st half but failed to utilise and missed chances and mistakes cost them the match. In the 44th minute, SC goalkeeper tried to punch out corner ball by Bishal Rai but mistakenly, he made its own goal and that when MMC took advantage of the rest of the game. After the goal, SC's players looked like in more pressure in the second half. In 81 minute, Pujan Uparkoti scored another goal to make it 2-0 and that was not enough. In 87 minute, African player of MMC, Adelaza Somide scored a beautiful heading goal to make it 3-0 and seal the match.
With this win, MMC win the league for record 8 times with 100% win rate in a season. ( so far, as they have two more games to play). Champion MMC also secure the opportunity to compete in the AFC Asian Cup in 2019, where big teams from Asian countries will compete.