Portugal's best and Atletico's future is just 22 years ...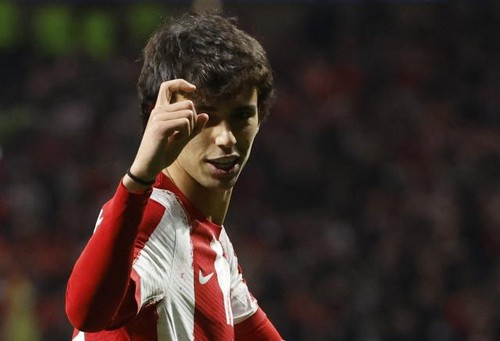 On November 10, 1999, Joao Felix was born in Viseu, Portugal. Thus, he has just rounded off his 22nd birthday and around his last birthday he scored four goals in two La Liga matches, which led the large Spanish sports newspaper "AS" to make a front page with the young Joao Felix with the headline "El futore del Atletico ".
"El futore" - the future - lays at the feet of Joao Felix, who in 2019 was named "Golden Boy". The performance around this title opened up for the big switch from Benfica to Atletico, where in the debut season he played a total of 36 matches, 2,483 minutes - but it was only nine goals and three assists. After that, he has raised the level under the inhuman pressure he plays under - because he is very often compared to Cristiano Ronaldo himself.
Better than Ronaldo?
Back in February 2019, Ronaldo was at the Lisbon derby between Sporting and Benfica at the Estadio Jose Alvalade. The superstar was impressed with a little playmaker who also acted as a hanging striker - the name of the young very exciting player was Joao Felix. The guests' No. 79 scored and was named the best player of the match, after a penalty kick was also committed on him in the 4-2 victory. After the match, Benfica's former vice-president Rui Gomes da Silva joked by saying:
- Portugal's best player was at Alvalade today… and it must have been special for Ronaldo to be here and see him play…
Something of an upheaval for Felix who just 18 months before had made his debut on the Benfica team, but has since made a positive impression by, among other things, making a hat trick against the Europa League surprise from Eintracht Frankfurt.
The hat-trick made him the youngest ever to score three goals in the same Europa League match. So in the relatively short time he proved to be clinically in front of goal, but also strong-headed, which is very reminiscent of the obvious comparison with the compatriot - Ronaldo.
Ronaldo also has the super agent Jorge Mendes, who Felix also has, and he got Felix a dream contract at Atletico Madrid but clubs like Milan, Juventus, Real Madrid, Liverpool, Manchester City and United were also mentioned. So many would like to have a contract with the young player, who may be everywhere in Europe's football headlines in the coming years. This upheaval for the kid has not been without cost. For an event at Adidas, he gave a rare interview, but also insight.
- I get contacted all the time on social media, but I always reject them. It has not always been like that. In the past, I checked all the messages that I received, but suddenly I started getting some unpleasant inquiries. After that, I stopped reading everything that is written about me, Felix said, before honestly stating:
- It could be nice to try to play next to Ronaldo, because he is the best.
But who is best - Ronaldo or Felix, who are in rapid development. According to Transfermarkt, his value increased by as much as 3,000% in just one season, and now do not forget that as a 15-year-old he went south from Porto to rivals Benfica. Why did they let him go? Surely something they wonder about at Estadio Jose Alvalade - Sporting's home ground… maybe Ronaldo did the same?
In the autumn of 2019, a special experience for young Felix came when Atletico Madrid beat Juventus 2-1, because Felix completely overshadowed the idol Ronaldo when he scored two goals in the first half. He also scored in the first half when Manchester United visited Wanda Metropolitano in 2022 and both times showed why the Spanish capital club paid 900 million kroner for him.
Now the future will show whether Felix will have the same success in the Spanish capital as his compatriot - Ronaldo - has had. Atletico's future… he is at least a part of it!