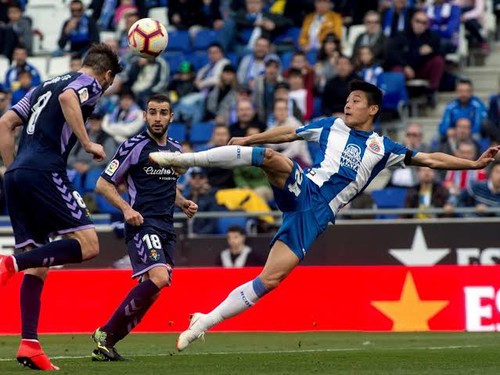 WU LEI BECAME THE FIRST CHINESE PLAYER IN LA LIGA'S HISTORY TO SCORE AFTER ASSISTING ESPANYOL TO WIN 3-1 AGAINST VALLADOLID YESTERDAY.
During the 2019 winter transfer season, Wu Lei joined Espanyol for a transfer fee of 2 million euros. After the first few matches, the Chinese player make his debut in the match against Huesca. By the match against Valladolid last night, Wu Lei continued to be used in the starting lineup. Finally, the Chinese striker found his first goal at his new club. 65 minutes, Wu Lei wisely broke the offside trap after Sergi Darder's pass. He calmly defeated goalkeeper Jordi Masip with a sublime finish.

This is the goal for Espanyol's 3-1 win over Valladolid. With this goal, Wu Lei became the first Chinese player in the history of scoring goals in La Liga. Earlier, player Zhang Chengdong played for Rayo Vallecano in the 2015/16 season but could not found the back of the net during his spell. Speaking to the press, Wu Lei was happy to get the first goal. He said: "I am very happy with the way fans welcome me here. I hope I can continue to score more goals for the club ".
Espanyol is now owned by Chinese businessman, Chen Yansheng. Currently, they are ranked 11th in La Liga with 4 points less than the European team.