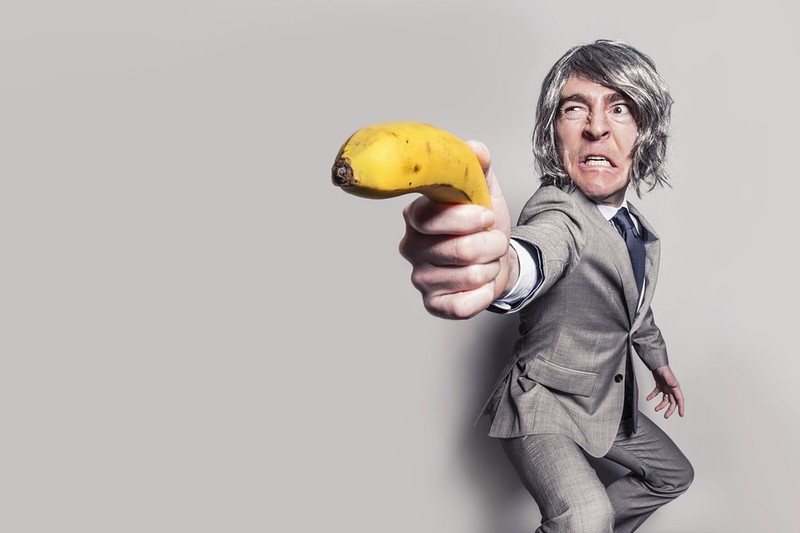 Sure there are times when football elevates us to Marco Tardelli levels of ecstasy, but for each such joyous dividend on our emotional investment, there are many more occasions on which the beautiful game reduces us to Temur Ketsbaia-esque fits of pique. Inhibited souls that most of us are, we may refrain from lashing out at the nearest advertising hoarding to release our pent up frustrations, a la Ketsbaia himself, preferring instead to politely swallow our resentment into the type of inscrutable middle class reserve on which psychiatrists and pharmaceutical giants prey, but while the symptoms may drastically differ the underlying cause is unmistakably the same - being thoroughly pissed off.

Since one of the drawbacks of a comfortable consensus is its uniform beigeness it'd be pointless to repeat familiar gripes about topics such as diving, haranguing referees, traffic beating "fans", non-celebrations, and Mike Dean's disco moves, all of which have been covered ad nauseam elsewhere, so instead I'll endeavour to air some grievances drawn out of left field, out of the dark depths of my own irritation!
---
The New Wembley

If we think of the Wembley Arch as a mangled metallic rainbow, then the New Wembley is the crock of sh*t at its end. What was once a cathedral to sport and football's spiritual home has been architecturally apostasised into an achingly aspirational shrine to the misdeeds of oligarchy. Willfully ideological and fanatically secular, this concrete cash-cow is the corrupted chancel where sacred mythology transubstantiates into a soulless swathe of empty corporate seats.
Though this stratified norm is pervasive throughout the upper echelons of the game, when applied to Wembley the implied "fan-hierarchy" chafes like a particularly egregious desecration of "the people's game". Wembley's consummate commodification of experience confirms that there is only one game in town and it's not called football, it's called money-making.

Relentless Hype
Guarding against boredom by being remorselessly boring, the dopamine-triggering cycle of constant engagement spins Orwellian half-truths into unassailable narratives with the Machiavellian dexterity of puppeteering marketeers pulling journalists' strings. Like sheep to the trough of force-fed consumerism, lazy tropes are guzzled down, loquacious links are lapped up, and minds are fattened for the kill.
Hype is the scripted rhetoric of hyper-fatalism anesthetising football to experience as meaning. Its doctrine of distraction the sport's depressant, an artificial high of addictive escapism synthesised from compulsive "must see" chemicals. With each euphoric hit football's colour drains along bruised tramlines into a junkie's sickly pallor of alabaster and deceit. With each tainted plunge of hype's syringe, football empties down the sinkhole of cultural Kardashian-ism and hashtags. And with each come-down, the addiction becomes all the more consuming.

The Phenomenon of Transfer Deadline Day
It's transfer deadline day in the year 2078 and, as per yellow-tied tradition, the embalmed corpse of Jim White is being wheeled out with the ceremonial fanfare of Jesus' entry into Jerusalem. Rumour-mongering acolytes prostrate themselves at the wheels of his gurney as the ritualised worship of raw consumerism reaches its cultish apogee in a wave of misdirection.

Think Supermarket Sweep, but a version where the bonus turkeys take the form of gormless "reporters" shivering in car parks, where pick n' mix symbolises an editorial alloy blending B-movie fantasy with barefaced lies, and where nobody does any shopping.

Okay, perhaps not exactly nobody. There is always the chance that with the transfer doomsday clock ticking towards gossip Armageddon the affected excitement could build to a Scottish-accented crescendo as ........ wait for it .......... Arbroath close in on the loan signing of Accrington Stanley's third choice goalie, Joe Hart. Whoop-dee-doo.

Once the window "slams shut" all there is left to do is gawp like obedient capitalists as the transfer-fee-totaliser euphorically ticks over to a new record of 15 gazillion yuan.

Next time, do yourself a favour, get some sleep and read the headlines in the morning.

Jamie Redknapp's Obsequiousness
If the Sky Sports studio is Gary Neville's punditry fiefdom then Jamie Redknapp is its deferential serf. "What do you think, Gary?", "Isn't that right, Gary?", "Do you fancy a back rub, Gary?". Exiled to the punditry hinterland that exists in the soundbite shaped space between Neville's monologues and the next ad break, the housewives' favourite Redknapp is little more than tokenistic "man-candy" propped up by "having played the game".

Inoffensive to the point of anonymity, the soporific vacuity of Redknapp's brand of superficial say-what-you-see analysis is sterile of both opinion and insight. Instantly forgettable and charmlessly conventional, he effortlessly shifts between cliché and anodyne anecdote to dapperly embody disposable genericism with his every banal utterance.

Corner-taking Ineptitude

When you boil it down football is essentially a game about kicking a ball well. Indeed, I think, if Man City's intricately embroidered passing patterns or Shane Duffy's stratosphere scraping Garryowens (up and unders) are anything to go by, we'd all agree that the modern professional ably showcases a wide spectrum of what kicking a ball well entails. Except that is when it comes to the seemingly elementary practice of taking corner kicks.

Under no pressure whatsoever the majority of designated corner-taking specialists duff their efforts obligingly onto the forehead of the first defender with all the hapless technique of a 30 handicapper attempting to emulate a Phil Mickelson flop shot. This aberration can only be explained by footballers' fascination with placing the ball in such a way that it frigidly kisses the whitewash of the corner arc. Overly obsessed with the obscurantist rites surrounding ball placement, the mundane act of corner-taking is reduced to an afterthought, to a scuffed miskick, to an almost inevitable counterattack.

The "There are no easy games in the Premier League" Delusion

As the league table stretches the elastic of its competitive mythology to the point of transparency, it's becoming abundantly clear that there are in fact lots of easy games in the Premier League. For example, of the plutocratic Big 6, only Manchester United suffered the indignity of dropping points against any of Fulham, Huddersfield, and Cardiff. Man City, on the other hand, dispatched of the now relegated trio with an aggregate home and away scoreline of 21-1.

Possession statistics tell a similarly one-sided tale. Whereas, 15 years there was only a single match in which one side maintained 70% or more possession, in the 2018/19 season, there were 67. In other words, statistically speaking, kicking a ball against a wall is a more even contest than 1 in 6 Premier League matches. Hence, although it is unlikely to catch on as a staple among Martin Tyler's encyclopedic canon of clichés, the rhetorical reality is that there are "too many easy games in the Premier League".

The Gratuitous Use of Slow Motion Replays

A cinematographic cum-stain on the game appeasing the repressed pedantry of the more controversy-fetishising members of the voyeuristic punditocracy. In part, the hyper-acuity of slow motion's fragmented frame by frame unrealism seems to me to be responsible for underwriting quixotic expectations of refereeing standards. Decisions are subject to an almost bionic form of molecular nitpicking wherein microscopic infringements are blown up into major talking points just as the standing of referees is reduced to the hunkered esteem of convenient scapegoats.

Yet on average, a Premier League referee makes 245 decisions per game of which just 5 are incorrect. Plainly, errors are made and while there is also some evidence of unconscious bias influencing decision making, in the main, there is little to distinguish the Warnock-ian narrative of plummeting standards from the paranoia of crackpot conspiracy theories.

What is more, against a backdrop of engineered indignation, it is important to resist conceptualising VAR as a reaction to what remains a largely imagined decline and to more rightfully consider it as the progeny of technological refinement and forensic scrutiny. To cap things off, as a consequence of its digital gene pool, VAR in many ways represents a lurid peephole to a dystopian future, where decision making is the preserve of algorithms alone and referees merely serve as emasculated totems to a bygone human age.

Brendan Rodgers-isms
The linguistic lovechild of Deepak Chopra and David Brent; Brendan Rodgers blends pseudo "self-help" mysticism with middle-management speak to create a cringe-worthy dialect all his own. This syntactical pirate plunders words from their meaning to string together an aural assault of such torturous nonsense as to qualify as the conversational equivalent of waterboarding. In fact, such is the visceral extent of my aversion that I have developed an involuntary tic, which involves perforating my own ear drums each time Brendan comes within a 5 mile radius of a microphone.

Jordan Pickford's Distribution
Perhaps I've missed something but as far as I can tell Pickford's passing repertoire is limited to either hoofing the ball as hard as possible, if he receives a pass to feet, or, having inexplicably folded his body into a one-legged yoga pose, to karate kick the ball as hard as possible from his hands. Yet, despite this one size fits all approach I have to sit back and endure commentator after commentator harping on about the virtues of the Everton man's "impeccable" distribution.

Incidentally, Pickford's pass completion rate for the 2018/19 Premier League season was 55.72% - just about what you'd expect from a hit and hope merchant.

Neymar's Bloated Ego

If I had the chance to quantum leap back in time in order to right some grave historical wrong it would be to April 27th 2019 at the Stade de France. I would entrust Ziggy to ensure that I possess the body of the Rennes fan who had the temerity (I mean who does he think he is) to tell Neymar to "go and learn to play football" (oooooh cutting) at the very moment the footballing prima-donna's watery jab landed on the unsuspecting spectator's nose. Assuming that everything went to plan, I would shoot the fourth best footballer in the world (yes that is a dig) a smirk before throwing myself to the ground as if I'd been poleaxed by a wayward meteor, rolling around like a drunken rhythmic gymnast who'd just lost their favourite hula hoop and sobbing tears of melodramatic insincerity as if auditioning for the role of a grieving matriarch in a telenovela. All the while trying to swallow my glee at giving the mollycoddled brat a taste of his own theatrical medicine.

Rest assured I'd be on the blower to renowned ambulance chaser, Lionel Hutz, shortly thereafter and that in due course I, rather than Neymar, would be the one commuting to work in a shiny new helicopter.

Ballon d'Or Campaigns
The sycophantic fanboi-ism of Ballon d'Or canvassing is nauseatingly predictable. Each autumn professional bias is unapologetically distilled into ego-stroking hagiographies endorsing the relative footballing merits of one wealthy tax-dodger over those of another, an unedifying spectacle of shameless electioneering epitomised by the scrounging "Ballon d'Or por favor" platitude which seems to pitifully beg for public approval from every other headline.

Neil Young once sang "you're only real with your makeup on" which, given the almost palpable insecurity disposing aspirants to cake on cosmetic esteem, seems lyrically apposite in reflecting the superficiality of the whole enterprise. Indeed, insecurity seems intrinsic to the Ballon d'Or artifice. Away from the gilded narcissism of Lionel Messi's polka-dotted penchant for eccentric tailoring and Cristiano Ronaldo's ice-cube annointed complexion, an insecurity of opinion tumbles through the turbulence of the surrounding discourse as if in search of golden-ball shaped life-raft. The Twitterati would do well to remember that just as opinions aren't validated by awards, neither is the identity of the best player in the world dictated by who wins the Ballon d'Or.

Martin Tyler's Limp Catchphrase
"And it's live". Yes I know Martin that's why I'm spending all this money.

While Roy Walker would doubtless approve of Tyler's straightforward "say what you see" approach, personally I find the moribund lack of imagination as irksome as John Delaney finds transparency - and that's saying something. More irritating still is that if anything the irrationality of my response, to what is in reality nothing more than a throwaway line, jars with my inflated self-concept of being a reasonable person to only deepen my aggravation further.

While we're at it, toning down the bromance with Gary Neville just a notch to concentrate on the match would also be greatly appreciated. Cheers.

Shirtless Bookings
For the simple fact that the expression of joy should never be circumscribed by commercial interests. In fact, you know what? If we're willing to accept the regulation of joy, we might as well just give up on the whole footballing charade and see the game for what it seems set to be reduced to - a 90 minute long advertisement where choreographed corporatism will eventually supplant the spontaneity of emotion as the means of celebration. The term that springs to mind is Orwellian.

---
Well, I don't know about you, but personally I found that very cathartic. Now freshly purged of much of my built up frustration I should be able to watch Ireland's upcoming qualifiers without suffering a complete emotional breakdown.