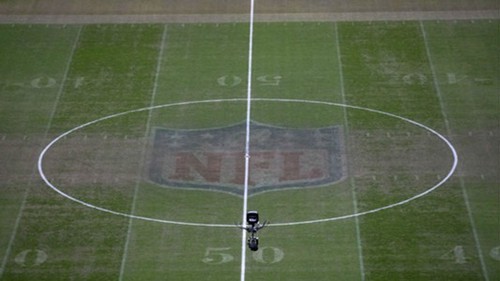 Still wearing the ill fitting clothes of her Saturday night fling, the adulterous intentions of the Wembley pitch were clear from the start. Her head turned, every bobble and erratic bounce testified to her frigid resentment at keeping up appearances at the behest of her first love. She wanted it to be over and she let us know, in no uncertain terms, by defining the limp spectacle that awaited us.

As if trying to win back her affection, the only goal of the game had something of American Football about it. A long Hail Mary from Ederson, caught Trippier betwixt and between devotion and heading the ball. The meaning of things momentarily inverted, his indecision proved decisive. Sterling's quicksilver feet, sparking like lightning rods for creativity, scurried into the box and provided a neat centre for the onrushing Mahrez. The intersection between man, ball, and talent aligned perfectly. And perhaps fate too, as Mahrez acknowledged through a poignant and understated celebration.

Briefly thereafter the synapses of City's hive mind fired and Spurs were left, like addled junkies, to chase the dopamine high. The ball flowed along cerebral pathways, tracing thinking tapestries through the mud and Spurs' midfield alike. Impulses of imagination jumped between the nodes of the Silvas, Mahrez, and Sterling to form a dizzying telepathy of footballing predestination. Yet, just as it seemed preordained to be another City masterclass their play faltered too.

Uncertainty emanated from the back. The uncoordinated slapstick of Benjamin Mendy's limbs being the clearest signal of an underlying defensive vulnerability. Indeed as if inspired by his comedic turn, a Benny Hill contagion spread through City's defence. Laporte and Stones both endured shaky moments, while Walker played with the speed of the Road Runner but the smarts of Wily Coyote.

In his aversion to the rigidity of a fixed straight line, Pep almost mirrors nature. Man City's shape is conceived to flow through the footballing landscape as if it were an extension of it, but at times here, as four at the back ebbed to three, Guardiola's design appeared out of place, like an industrial eyesore blotting his own grand vision. That they were spared punishment attests to the complex of the eternal second which seems to haunt Spurs' efforts to take their big step forward. The symptoms were many, evidenced just as clearly in the small details of a slightly heavy touch, or a microsecond delay, as in Lamela's headline grabbing lack of composure.

At the back the tautness of Spurs' defensive line suggested that it could snap at any time. Throughout, it vibrated like a guitar string being plucked by City's virtuosos, as an instrument for someone else's music. Unlike their opponents who passed out from the back with the aplomb of Houdini escaping a straitjacket, Spurs' attempts at flattering imitation were pale only succeeding to creep slowly backwards to Lloris. Here writ large was the talent gap that Pochettino had acknowledged in the game's buildup.

When Spurs, like a bad shot in a Tarantino movie, weren't busy repeatedly shooting themselves in the foot, the main source of their frustration came in the form of Fernandinho. To expose Man City's defence opposing teams are first required to run an Indiana Jones style gauntlet cunningly designed to meet the approval of a health and safety officer, while still remaining a deterrent. In this role, Fernandinho swung like a cotton-wool coated wrecking ball, gently, but definitively, cushioning Tottenham players to the floor as soon as they threatened. The knowing smile of false apology permanently etched across his face spoke of a man who knew he was getting away with it.

Up front, in keeping with the error strewn nature of the game, Man City were uncharacteristically profligate when looking to put the match to bed. Aguero's tame side footed effort failed to extend Lloris, while, much to Guardiola's bristling exasperation, David Silva inexplicably passed up an open goal. The misses could have and perhaps should have proved costly. The introduction of Winks, Alli, and Eriksen transformed Spurs into a more imaginative proposition which looked to probe intelligently for weak spots in City's defence. They found one, but for all the improvement the transformation wasn't complete, at the crucial moment, Spurs remained Spurs.
Sometimes a result requires deep tactical analysis to break down. Other times, the reason for a result is obvious all along, like Pochettino admitted before the game, Man City are just better at football.