Bangladesh's win over Nepal with hardships and straggle. Golam Rabbani Chhoton's team emerged in the semi-finals of the Group Under-19 Women's Football Championship.
Bangladesh won 2-1 on Tuesday in Thimpu Changlimithang Stadium, Bhutan. In the previous match of the 'B' group, Bangladesh beat Pakistan by 12-0.
Bangladesh will face Bhutan's runners-up Bhutan in Group A on Friday. India will face Nepal other semi-final on the same day.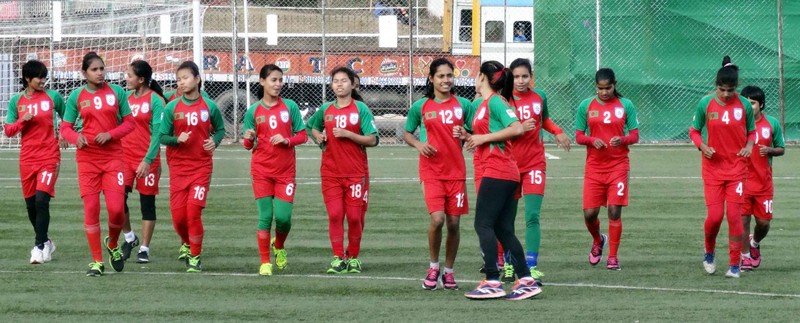 Two teams were confirmed to play semi-final before. Bangladesh defeats Pakistan by 12-0 goals in the group defining championship
Bangladesh goes ahead with the opportunities available in the sixteenth minute. Sirat Jahan Swapna put the ball in front, trapping a defender facing the ball. This forwarder was scored by 7 goals in the match against Pakistan.
Goalkeeper Rupna Chakma knocked the goal in the 32nd minute and broke the trap of the offside and took the control of the ball under the control of the ball. This is his second goal in the tournament.
Penalty flute referee playing in the 41st minute when the yellow foil was shot in the box. But Shamsunnahar senior was unable to increase the gap beyond the post.