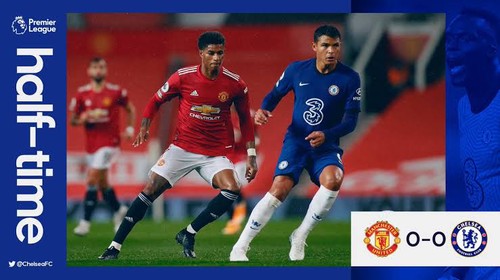 Chelsea and Manchester United battled and could only play 0-0 in the round 26 of the English Premier league game at Stamford Bridge. it was a determination game for both side as Manchester United were looking to keep close to challenging for the English Premier league title while Chelsea are aiming for the top 4 spot. After the game Manchester United still stay on their position while Chelsea descend to 5th position with 2 points behind Westham that is currently on the 4th position.
Chelsea dominated the match both half and Manchester United did a lot of Job by defending a lot in the match, Chelsea played and was unable to scored any goals as Manchester United stand firm at their defense. the fist leg between both team also resulted in draw at Old Trafford. Chelsea is having a big Match which could make the top 4 somehow difficult but they will make it with their current form and if they don't suffer any injuries.
Chelsea next match will be against the reigning Champions Liverpool who have been knocked down by injury, Liverpool are currently on a 4 game losing steak and their form has dropped drastically and they are aiming for the top 4 but currently on 6th position. However, Liverpool won Chelsea in the first leg and this will be a chance for Chelsea to take revenge to advance to the top 4. its a match needed by both parties but I am so sure its a win for Chelsea.