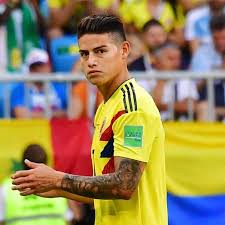 Colombia has had a bad start in South America's World Cup qualifiers, where after four matches they have only scraped together four points and are fourth last in the qualifying table. In the middle of the week, they lost heavily with a 3-0 defeat to Uruguay and most recently a huge loss of 6-1 to Ecuador.
As if that does not look difficult enough for Colombia in advance, rumors on Thursday that the team's big star James Rodriguez, who plays for Everton on a daily basis, should reportedly have ended up in a fight with national teammate Jefferson Lerma after the humiliation against Ecuador. According to the Colombian media Blog Deportivo - Blu Radio.
The fight between the two Colombian national team players reportedly took place in the locker room after the Ecuador match. The fight is not confirmed, but leaves plenty of questions and speculation surrounding an already pressured Colombian national team.