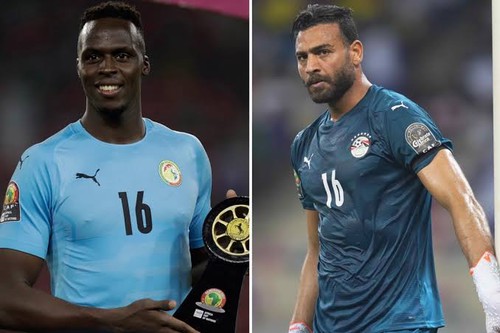 The Africa Cup of nation AFCON 2021 held in Cameroon has come and gone but a lot of questions are being asked on the award for best performing players during the tournament. The award for the best keeper of the tournament which was awarded to Edward Mendy; the Senegalese keeper who helped team lifted the trophy for the first time in their history against the pharaohs of Egypt in the finals.
Egyptian keeper Abou Gabal 'Gabaski' who was outstanding throughout the tournament despite being given the man of the match award in the final game against Senegal has questioned why the best keeper of the tournament was not awarded to him. Gaboski confirmed that even a Edward Mendy told him that he deserved that award than himself but he was surprised he wasn't given to him. Gaboski played four games during the tournament in which he conceded only one goal, he player over 120 minutes on two occasions against Ivory Coast and Cameroon, making 8 penalty saves and fantastic saves on their way to the finals. If not for the keepers outstanding performance in the finals and stopping Mane's penalty kick, Senegal would have sealed their win during normal 90 minutes of the playing time.
Sometimes, one may wonder on what basis are these awards being given if not about the statistics to say the less. This is is not a new phenomenon in the world of football as awards that have raised controversies have been given in different tournaments, different leagues and different occasions to different players under different circumstances. It is quite understandable that Senegal won the tournament and most of the award normally goes to winning side but however this particular award on this ground was not justifiable enough for Abou Gabal.