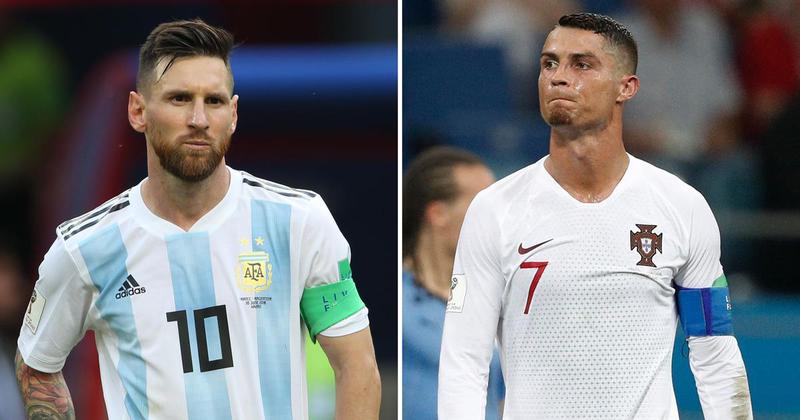 Yesterday I watched two fantastic games of football and went to bed with a smile on my face. It was not because I saw a highly entertaining 7-goal thriller between two great football nations and it was not because Uruguay demonstrated a great team performance. Neither it was because I root for France or Uruguay and neither it was for electric performance of the 19-year-old Kylian Mbappe or a stunning brace from Edinson Cavani. It was because Lionel Messi and Cristiano Ronaldo, two of the greatest players of all time, were both out of the tournament as early as in the round of 16. And let me tell you why.
First and foremost, I am totally sick of all that who-is-the-GOAT hysteria. Jesus, It is a World Cup, happening once in four years, arguably the biggest sports event in the universe. Yet somehow 90% of news goes like: 'Will Messi or Ronaldo ever score a playoff goal?' or 'Are Ronaldo thighs bigger than those of Schwarzenegger?' or 'Is Messi the real head coach of Argentina?' and all that sort of crap.
Secondly, now these two fellas are out and a dozen more games are still to be played, maybe FIFA are finally going to look at the other players when they get those awards like Ballon D'Or distributed at the end of the year? Maybe they will take a look at ever-hard-working genius Luka Modric, who (dare I say, just like Ronaldo) led Real Madrid to three consecutive UEFA Champions Leagues and has dominated the midfield for Croatia at the World Cup, including the game against 10 Argentines and 1 GOAT? Or Harry Kane, who scored a hell lot of goals for Tottenham and will most likely become the World Cup top scorer? Or Kevin De Bruyne, who was Premier League top assistant last season and has a chance to win the World Cup with Belgium? Or Sergio Ramos, who, as much I hate the prick, has been the world's best defender for the past couple of years?
I won't be anymore sorry for miserable Argentina and Portugal players, who, as great as they are when playing for clubs, turn into school boys looking for the strongest player in the schoolyard and hiding behind him. I can't see the likes of Sergio Aguro, Paulo Dybala or Bernardo Silva being just assistants to the great Leo and CR7. Oh, Dybala was only given 25 minutes in 4 games? Poor boy.. Icardi, Serie A top striker and the only Argentina forward who could be really threatening in the air, was left out altogether? Sorry, we are building our game around Messi.
And finally, it's the god damn World Cup, it's not a gala night of the biggest egos. It was such a delight to see Uruguay fight like a Team against Portugal, a bunch of good players trying to pass the ball to Cristiano Ronaldo. It was such a pleasure to see spirited Croatia and France dismantle ridiculous Argentina side who are running like headless chicken, searching for their rooster Leo up front. This Argentina team have been a mess for a while now. No management, no tactics, no team play, no balanced lineup, they have nothing except lost generation of great players who were unlucky to play alongside Messi.
Don't get me wrong, I am no blind and I do think Lionel Messi and Cristiano Ronaldo are not just some of the greatest players but really THE greatest players in history (sorry, Pele and Maradona, teams know how to defend these days). But the rest of the World Cup will be so much better without the GOATs. Finally, it will be between the teams, not the authoritarian leaders and their suite.
And maybe in four years we will see stronger Argentina and Portugal. The TEAMS that would have the right to be called that. Thank you, France and Uruguay!