In 2020, Real Madrid faced Shakhtar Donetsk in the Champions League group stage and lost twice (2: 3, 0: 2). This time the Madrid team came to Kyiv under the leadership of Carlo Ancelotti with one goal - to take revenge. The task turned out to be very easy.
Throughout the first half, "Real" controlled the course of the match, which did not like De Dzerby very much. The head coach of Shakhtar would often flare-up on the bench and, gesticulating and constantly adjusting his scarf, would prompt his players. A significant advantage of the Madrid team was reflected in the statistics - 15 shots (five blocked), five corners, a lot of dangerous attacks.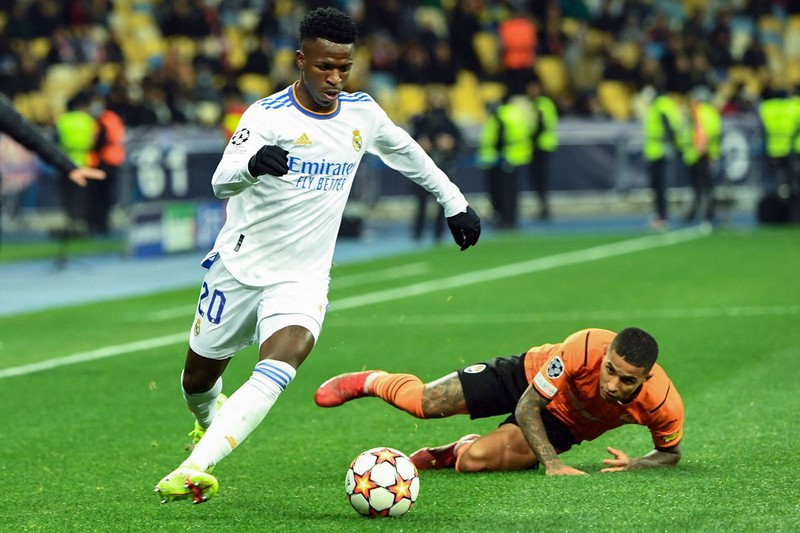 The ball was in the net only in the 37th minute. The long pass of the Real Madrid midfielder to Benzema was interrupted by Krivtsov, from whose foot the ball flew into Trubin's goal by a parachute.
For De Dzerby's team, the outcome of the match was a foregone conclusion in the 56th minute. On the 51st precise cross, Modric reached Vinicius, who, being opposite the goal, easily hammered the ball into the lower right corner. And five minutes later, the Brazilian performed an amazing run and with a kick from the penalty area brought the score to a large one. Neither the four defensive players nor the goalkeeper hindered him.
In this meeting, Vinicius proved that he can not only score goals but also distribute assists. Nine minutes after the double, the Brazilian was assisted by Rodrigo, who scored the second goal in the Champions League this season.
When the score became 0: 4, Shakhtar rushed to score a goal of prestige. But it was impossible to do it. First, Courtois blocked a dangerous shot from Fernando in the bottom corner of the goal, then Thibault coped with a shot of Marlos from close range.
In stoppage time, the fifth goal flew into Shakhtar's goal. Karim Benzema scored a working goal from the assist of Marco Asensio, thereby continuing his personal goal streak to five matches.
0: 5 - a painful blow for the Donetsk club, which dealt with Real Madrid within its walls a year ago thanks to goals from Dentinho and Solomon. The away win keeps Ancelotti's team second in Group B, while Shakhtar is in the last line with one point and a goal difference of 0-7. De Dzerby's team will be able to rehabilitate already in the next round of the Champions League: on November 3, the Ukrainians will play at the Santiago Bernabeu.