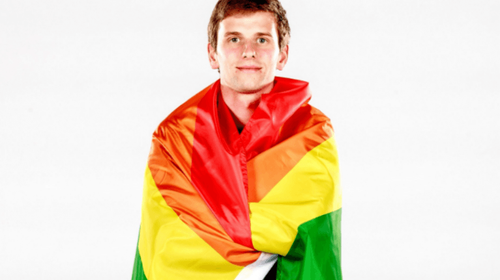 Minnesota United's Collin Martin has announced that he is gay ahead of the club's Pride night on Friday, as Daily Mail reports.
Following the retirement of LA Galaxy winger Robbie Rogers last November, Martin is the only openly homosexual player currently playing in the MLS.
Minnesota play against FC Dallas on Friday and the club will host an evening to showcase inclusiveness and diversity in the MLS.
And, just hours before the game is due to kick off, Martin shared his news on social media.
What do you think on this? Do you support the coming out or not?
'Tonight my team, Minnesota United, is having their Pride night,' Martin wrote on Twitter. 'It's an important night for me I'll be announcing for the first time publicly that I am an openly gay player in Major League Soccer.
'I have been out as a gay man for many years to my family and friends, and this includes my team-mates. I have played Major League Soccer for six seasons: four seasons with DC United and 2 seasons with Minnesota United.
'Today, I'm proud that my entire team and the management of Minnesota United know that I am gay.'
Martin went on to thank the MLS for their backing, insisting it made his decision to come out publicly a lot easier, before assuring other professional sportspeople that the community would welcome them when or if they decide to follow in his footsteps.
What do you think on this? Do you support the coming out or not?