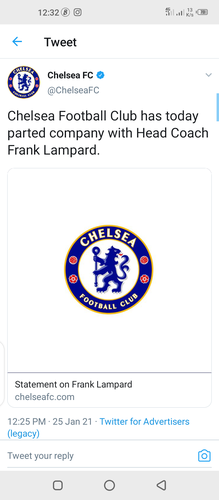 Chelsea has today parted way with their head coach Frank Lampard. It was long overdue and it has cleanly shown after the loss against Leicester.
Issues has been emanating since the transfers funds spent on the transfer window and also grief that Chelsea did not sign some players he wanted like Declan Rice and also complaining that most player signed were the board signing.
All in all the most lacking element in the team is the tactical effect was so missing and glaring. Player where used in a misfit position and the result showed it.
We hope Lampard has got the experience needed to bolster his coaching credentials. We wish him all the best in his future endeavor.