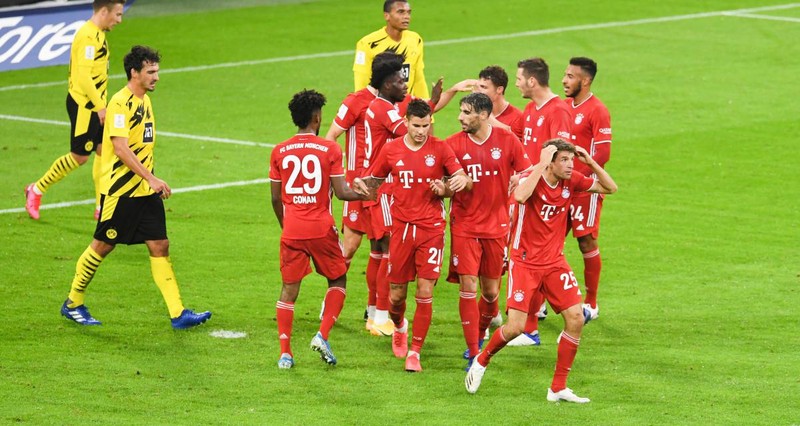 When Borussia Dortmund and Bayern Munich meet, tomorrow, Saturday, in the German Football League, the match between them will not be just a new version of the summit confrontations, but it will also be a clash between two different business models.
The current season is witnessing a new attempt by Dortmund, which is filled with youth, to end the complete domination of Bayern Munich over the Bundesliga in recent years.
The match also represents a confrontation between the two different philosophies of the two major clubs.
Now, all the talk at the Bavarian club is focused on players born in 1995, before or immediately after, such as Sergei Gnabry, Joshua Kimmich, Leroy Sane, Benjamin Pavard, Leon Goritska, Kingsley Coman and Niklas Zolleh.
They had already achieved success with the team, in the Champions League last season, and joined their teammates from experienced elements, such as Robert Lewandowski, Thomas Muller and goalkeeper Manuel Neuer.
In Dortmund, most attention is focused on a group of young players, such as the Norwegian Haaland, the English Jadon Sancho and Judy Bellingham, the American Giovanni Reina, in addition to the young player Yusova Mukoko.
"This is our philosophy and our brand," said Sebastian Kehl, head of player licenses in Borussia Dortmund.
Despite this, Uli Hoeness, the former president of Bayern Munich, believes that Dortmund has recently failed to win the title of any major tournament, due to this model that he applies.
In statements to the German newspaper "Frankfurter Allgemeine Zeitung", in early August, Hoeness said: "If Dortmund has signed a talented player who plays well, you will hear a few months later, whether from inside or outside the club, that he will sell this player soon."
He added, "How can a player absorb 100 percent (DNA) of a club, if he feels he will be sold? We do not have this philosophy at all ... We bring players for Bayern Munich, and we never seek to use them commercially."
Bailout policy
As Bayern seeks to develop its policy and image (we are as we are), Dortmund adopted the youth model more than a decade ago, after the club was about to declare bankruptcy, due to spending lavishly on strengthening its ranks, in the mid-nineties of the last century, when they won the Bundesliga title twice and a cup. Champions League in 1997.
With German football laws not allowing clubs to be sold entirely to investors, Dortmund resorted to a policy of contracting with young players, which contributed to reducing costs, in addition to the possibility of giving these players the opportunity to participate for long periods of time in matches, benefit from them for years, and then sell them at great prices.
As for Bayern, after his great financial suffering in the late 1970s, he built his fortune over the following decades, and owes great thanks to this to the policies pursued by Oli Hoeness, who was the club's general manager and then president for decades.
And since 1992, Bayern applied fiscal policy, which worked to diversify sources of income.
The Bavarian giants occupied fourth place in the list of the richest clubs in the world, issued by the famous "Deloitte" auditing company, earlier this year, succeeding Barcelona and Real Madrid of Spain and Manchester United of England.
The list indicated that Bayern's revenues amounted to 660 million euros (778 million dollars), a very large difference from Dortmund, who ranked 12th with 377 million euros.
Dortmund, the only club in the Bundesliga listed on the stock exchange, was on the verge of winning the league title, in the 2018/19 season, but squandered the opportunity and over-advanced in favor of their rivals.