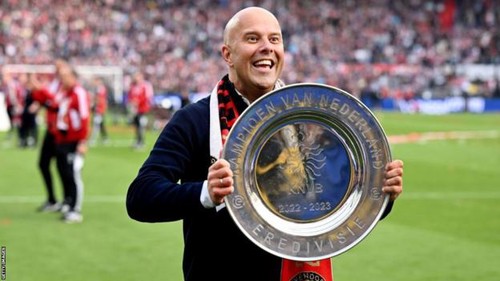 Tottenham have no coach for like 60 days. Club board sacked Conte for telling the truth about club and it's "excuse culture". Incapable board with chairman Daniel Levy and his "right hand" Donna Cullen didn't even bother to call Pochettino who will most likely go to Chelsea. They tried with Nagelsmann, but reject his terms like having some control over club transfer policy and appoint director of football close to him. Last one who snubbed these serial losers is Feyenoord coach Arne Slot who publicly said he will stay in Netherlands. He will extend contract with his current club Feyenoord. Enrique probably also rejected Spurs, but we didn't see many details about it. Sporting coach also said he's staying in Lisbon.
Why no one want to coach club with such talents like Eric Dier, Davinson Sanchez, Japhet Tanganga, Oliver Skipp, Ryan Sessegnon, Harry Winks and others ? :) Reason for Arne Slot staying in Netherlands is unwillingness of Daniel Levy to pay release clause. Tottenham is 5 million short in evaluation what it should pay compared to what Feyenoord asked. Sound familiar ? Next bunch of names include names like current Celtic boss. I personally believe Daniel Levy already made a decision that ex Leicester coach Brendan Rodgers will become new manager, but it's not right time to announce this because there are to many fans who are against this. I can tell you It will be Rodgers or Potter. I think Potter would not accept this too so basically only candidate is infamous Brendan Rodgers who just relegated Leicester.
At the end of the day it doesn't matter because there is no coach who could succeed in this club because of well rooted "excuse culture". Anyone who come in will just damage his reputation and will win absolutely nothing. I've heard people are calling Tottenham managerial graveyard. LoL! Tot on German means dead, it has sense!
This morning Talk Sport radio journalists talked about Spurs, Slot and Simon Jordan tried hard to defend serial loser on top of Tottenham pyramid, but every fan who entered into program and every comment in chat were against him. In this deep rooted "excuse culture" it's normal to lose the game, every loss is welcomed and players and staff are just repeating we were not on our level, we will be better next week and stuff like that. It looks like only Kane becomes nervous after loss. "Why didn't we score more goals ?" -asked defender after 3 conceded goals against Southampton and his direct guilt for at least one of them. "Those forwards should do more" is his opinion about squad which scored more than 60 goals and concede also more than 60. Midfielder also member of "player committee" like previous player laugh wide after festival of conceded goals in Newcastle. Everything is cool we conceded 5 in 20 minutes... Third member of this infamous "player committee refused to go on the pitch at half time of same game after he was guilty for couple of conceded goals. Fourth and only one who deserve to be there scored consolation goal in that match. He seems like only one who get upset when we lose.
Simon Jordan tried to defend his house friend Daniel Levy by saying coaches Jose Mourinho and Antonio Conte are to blame because Levy is not playing on the pitch. "Why did they lose vs Sheffield United ? Is it Levy foul ?" He asked. "Jose was sacked because players didn't want to play for him" he said. That is key of the problem and why is Levy guilty. Players didn't want to play for manager! Players don't want to play for club! That's root of problem. First Tottenham should win any second squad of any Championship club without coach, staff and bench no matter who goes out on the pitch! It was not tactical or technical problem it was pure 'players didn't want to play' situation.
What Levy does in such situation ? He just sack the manager and let same players continue in this club until they again decide they don't want to play which is like every second game or one half in every game. It's enchanted circle. What would serious club do ? It would stick with good manager and make very serious meeting with every player telling them they can find exit door out of the club easily if they don't want to play for this club. Crucial question is why they don't want to play for club ? What is going on behind the scenes in this club ? That is job of serious journalists from UK to discover. Maybe it's also police matter because there might be some grand betting scheme standing behind all of this.
Now you tell me what kind of manager would accept to enter into this mud to train players like Eric Dier, Davinson Sanchez, Ben Davies, Ryan Sessegnon, Harry Winks, Japhet Tanganga, Joe Rodon, Oliver Skipp plus those Daniel Levy will bring to him ? Elite will surely not come. They saw what Jose and Antonio faced and how they ended. Every manager know and can easily check who Daniel Levy is.
Only solution for going forward is immediate sacking of at least Daniel Levy. The best solution is ENIC to sell club to normal owner, but change on chairman position would be step forward. Big up to everyone who saw that long before me, to people like Brian Dagul, The Kauff, Stellios, Iggy, Eu Jin, Kuvva, man behind "World of Hotspur" web site and all others. Purple and gold until club is sold! LevyOut! ENICOut!
Do you know what the highest high will be ? It will be when Daniel Levy approach Nuno to ask him to become manager and he refuse him too. LoL!