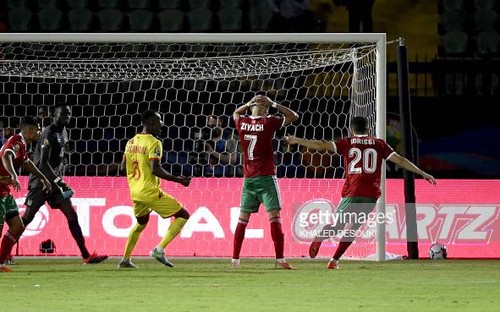 Ajax played well last season eliminated big names like Real Madrid and Juventus. In semi-final they didn't have luck and Tottenhem eliminated them. One of the best players of this club is player from Morocco Hakim Ziyech. A lot of the biggest clubs from Europe would like to have him in their squad. However this night was not his.
In eliminating stage of African Cup Morocco faced Benin. Morocco was big favorite in this game with odds of just 1.40-1.50 to win this game. They won all games in group stage, they showed class football with great passing. However tonight they bumped on bump on road called Benin. Underdog defended well in first half. In second they even scored a goal after corner to take lead. The best Morocco player then came to the biggest stage. First around 57-58 minute he was in the box with incoming ball, he had plenty of space and wanted to shot volley, but miserable missed entire ball and helplessly fell on his back in the box. Chance went away!
Benin defender made great mistake trying to dribble around 20 minutes to the end and Morroco equalized result on 1:1. Rest of the game passed in Morroco attacks, but they could not score. Deep in injury time referee awarded penalty for Morroco after foul in the box. Who else could shoot it but the best player Zyech ? His shot hit the post and that chance went away too.
Game came in extra time, Morocco had extra man because of doubtful sending off of one Benin defender who obstructed medical team from helping his teammate to gain some time. Referee did not like that sort of time wasting and gave him second yellow card which meant red. In second period of extra time guess who had chance better than penalty ? Yes it was Zyech again! He was all alone in the box clear shoot, plenty of time, but he kicked the ball over the bar like he is playing rugby! I believe rugby players says "It's good!" and get awarded for such shot with 3 points. LoL
Finally game went to penalties, where Benin players had no mercy, Zyech was 5th penalty taker for Morocco, but two of his team mates were unable to score a goal and all was over after 4th serial. We will never know if he would score 5th penalty, but I have reason to believe he would miss that one too.
As I said in article about Suarez and Uruguay all the best players missed crucial penalty at least once. List is long from Maradona over Baresi to Messi and Suarez. Every player can have bad day, but this was what Sir Bobby Robson would say "One of those nights" when nothing can be done right. Now Zyech will probably feel wrath of Morocco football fans who watched in disbelief departure from African cup from no less than Benin. Those penalty misses on national level are hard to forget.
For consolation Zyech you signed yourself with age of only 26 between such giant players. There will be more African cups and probably World Cups for you and Morocco and you will probably show what you know there. If not you can always try Rugby! :)
This article is for Happy Moan-day contest.