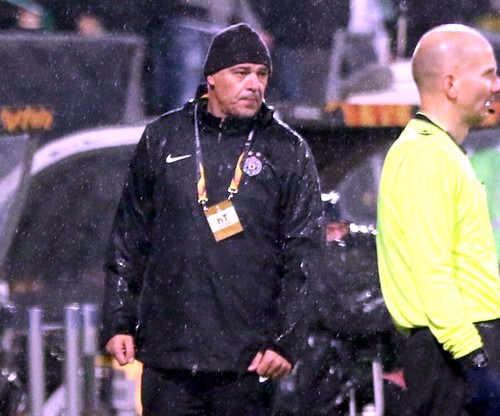 Partizan has been eliminated from Europa League after 2:2 draw against Dutch side AZ Alkmaar. AZ made shocking come back with man down in last 10 minutes. Person to blame for this is Partizan head coach Savo Milosevic.
In the beginning everything looked good, Partizan waited on own half to get ball and then make fast dangerous counter attack. Partizan full backs didn't run to much in attack and did their defensive job pretty good. Partizan took the ball and Bibras Natko made great pass for Takuma Asano who scored for 0:1. AZ made few half chances without dangerous shot on goal. Soon after they made big mistake on their own half and Soumah took the ball alone in front of goal keeper and scored for 0:2. Serbian crowd on stadium in den Hag celebrated and everything looked right. Partizan had one more dangerous counter attack, but Somah was selfish instead to pass to alone Asano he dribbled into 3-4 AZ players imagining he is combination of Messi and Maradona and lost the ball and fall. I don't know did he try to sell himself with this or what was the problem, but he did all wrong in that attack.
Second half was more less same as first, Partizan made few counter attacks, but failed to score third goal and finish this game. Tosic poor shot, Sadiq was denied by already on grass AZ goalkeeper, there was one post too. Dutch side became nervous as time goes by. Partizan players started to look tired after 60 minute. They just sit on their own half without trying serious counter attack any more. Then coach Savo Milosevic step up on big scene. He started to substitute midfielders with defenders and Brezancic and Vujacic came into game. Those two showed they are not good enough even for Serbian Ling Long league in game against Napredak Krusevac. When they played Napredak scored 2 and could score 2-3 more in first half. I don't know what was Savo's goal with those substitutes, but after them Partizan stopped to exist on field. AZ player Idrisi hit bar before their striker Boadu got second yellow card for trying to simulate penalty in Partizan box. 0:2 for Partizan and man down for AZ I thought that's it. I was so wrong. I should never underestimate preparation of Serbian clubs to concede goals. But to concede 2 with extra man ? Come on! LOL
There is a theory that 2:0 lead is easiest result to equalize because players who lead 2:0 relax and think they already won the game and stop playing seriously. Once they concede first other side get wings, while leading side got water in the ears and fear and concede second. But is it possible to concede 2 with extra man on the field ? Yes it is if you are Partizan Belgrade with Brezancic and Vujacic in squad! First came one high cross into the box, Pavlovic and Urosevic failed to clear it, Dutch lad did header, Partizan goal keeper Stojkovic was for some reason in wrong part of goal and let ball came in. 1:2! Soon after AZ hit post with one nice long range shot. Home crowd got excited and after a while they created new chance and scored for 2:2 and that was it. Rest of the game exhausted Partizan players couldn't make any serious threat on AZ goal, while AZ players did some time wasting now.
After the game Savo Milosevic was not in to good mood saying he is one to blame for this because he made wrong substitutes. I completly agree with that conclusion. Those two who came in are not good enough for playing against bottom sides in domestic league and not on big European stage. Letting them in and taking out midfielders didn't increase defense, just made confusion. Weakened midfield could not make any counter attack and AZ went with 10 in attack. This move limited Partizan on defense only and doing that with extra man on field was deeply wrong and cowardly.
Final word for consolation: I can say Savo you made brilliant tactic which worked for 60 minutes until your players got tired. AZ is side in great form which scored 25 goals and didn't concede single in last couple of games. No side conceded less than 3 against them in last 4-5 games in Holland championship. They destroyed even PSV with 0:4 away. Partizan went out with just 2, and scored 2 which is 2x more than clubs like PSV, Utrecht, Astana ... together. This is painful elimination, but at least not with some disgracing result like 5-6:0 or similar. For the end I can say Sir Alex Ferguson was right when he told Savo he should do managerial business because he has talent. Savo you should not quit, just insist on better substitutes. Learn from mistakes! Make them ready for 90 minutes of serious play, work on fitness of players, give boot in back to ignorant pricks like Brezancic and Vujacic they are not players for Partizan!
This article has been written for happy moan day contest here.